Roulette Boss – How To Win At Online Roulette Like A Boss! 
Arsenal News
Arsenal News January / February
Arsenal v Monaco Player Ratings
Arsenal 1 -3 Monaco Player Ratings by KJ
Ospina – 4
Shocking keeping tonight. Spilled numerous catches and conceded goals that should've been saved in my opinion, especially the first one.
Bellerin – 4
Completely out of his depth which is worrying. Hasn't really kicked on at all after his good game against City. Seems to be too inexperienced and gets caught too central when defending.
Mertesacker – 2
Diabolical display. He was at fault for two of the goals and didn't do anything captain-like. He definitely pulled off his Vincent Kompany impression (I assume that was what he was going for).
Koscielny – 4
Didn't do anything to prevent Berbatov from dictating the tempo of the game, especially in the second half.
Gibbs – 3
Horrible night for him. Messed up so many offensive chances and was caught out numerous times. His inclusion over Monreal was a joke. Nacho would've provided much more offensive pressure which would've prevented Monaco from working their way out of their half so easily.
Coquelin – 4
Left us open quite a bit and didn't stop Joao Moutinho at all which would've been his job. He was frankly schooled by the Portuguese international.
Cazorla – 4
Didn't work at all as a box to box today. Didn't make any penetrating runs after the first 5 mins of the game and was caught out with some suspect passing.
Welbeck – 4
Poor and came in far too much to collect the ball which meant we were always a man light when passed to the forward
players.
Özil – 4
He started well but faded quickly with the team and just couldn't get any passes together with team mates.
Alexis – 4
He took far too many touches in simple positions which killed our ability to catch Monaco out of shape. Very poor display by the Chilean.
Giroud – 2
As bad as Mertesacker today. Missed an open goal and just was poor in general throughout the game. Subbed off after an hour because of that display.
Subs:
Walcott – 4
He came on and had chances to score but didn't really take them at all.
Rosicky – 3
He came on and had very little effect.
Chamberlain – 2
He scored a great goal but was then at fault for the goal we conceded after that. If anything, his actions made the tie even more unfavourable for us.
Arsenal were awful – Wenger can't motivate them any more….
What can the Arsenal fan do? Arsene will not be sacked even if we get relegated.. by KM
Well there you have it. Arsenal beaten by a terrible Monaco side 3:1 at the Emirates. Worse than the result was the performance. Not one player had any sort of character. I really saw an uninterested side. The same one I saw against Crystal Palace.
Monreal was benched and on came Gibbs who was more focused on going forward and doing nothing, rather than helping in defense. Bellerin was the same. What the hell? Coquelin was terrible. Where was a man to block Kondogbia on his first shot? Wasn't that Coquelins job?
And guess who sat next to him? Santi Cazorla of all people was dropped to be a second DM. We were terrible. The passing was bad, the possession was awful, but worst of all I was shocked that we are at the Emirates and we don't want to play. We were uninterested in the game.
We are losing 1:0 and we throw bodies forward and one simple counter and we are done for. Sanchez tried to go past 10 players rather than give a back pass. Do you remember the United game? I was sitting right behind the goal as I saw Sanchez try to be the hero again rather than prevent a second goal.
Welbeck was running around trying to do something, but having no idea what that is. And Giroud. He was so bad he got subbed, and the worst thing is, we didn't have a single man in the box after that. I thought our players disappeared. We didn't have anyone in the box, nor did we have anyone in the back to cover in defense.
We showed no desire to try and come back. If Mourinho was a coach, the players would die on the field for him. Wenger is no moral support for the players. He is helpless. The players sat for themselves and thought how about we play more defensive, so we get some results. Something a man paid 8 million to do couldn't do.
I don't know how much more I can take. I go to bed with a broken heart every month because Arsene cannot finish 3rd in a league where only Chelsea and Man City have some sort of a decent squad. He will never win the Champions League, because he has no character. He let a 3 goal lead slip, and what is the lesson we learned.
Words are easy to be said, but just look at the way the players were sitting there doing nothing. No movement, no ideas, nothing. We were in possesion when Monaco scored goals 2 and 3 and we gave them easy chances. Crystal Palace may miss them but in the last 16 of Europe – it doesn't work that way.
Wenger's gotta go. Bring in Simeone, or Klopp, or anyone… Ask yourself is this performance worth the immense ticket prices you pay to sit at the Emirates? Why do you think Sanchez was sold from Barcelona? Ozil from Madrid? Where was the spirit from people who are worth almost 80 million pounds ?
Giroud showed more spirit than the others, although the chances he missed were criminal. We don't have a top keeper, the defense is more concerned about attacking. We lacked any sort of vision and we never learn from the mistakes.
Wenger is a manager of the past, once truly great and ahead of the game. Now a man chasing shadows. We're never beating United in the FA cup with a performance like that. I really am shocked. I left a date, to come home and see the MIGHTY ARSENAL play…
I am gutted. We should've drawn Barca or Bayern or Real Madrid. At least then it wouldn't hurt so much. Now i am ruined…

justarsenal.com Konstantin
Arsenal v Monaco preview
Arsene Wenger suffered "an emotional shock" when Arsenal drew Monaco in the last 16 of the Champions League but there will be no room for sentiment when the two sides meet at the Emirates Stadium on Wednesday.
Wenger spent seven years in charge of the Ligue 1 club after taking over in 1987, and Monaco were crowned French champions in his first season at the helm.
Wenger also won the Coupe de France during his successful spell in Monaco before moving on to Japanese club Nagoya Grampus Eight.
The 65-year-old was then appointed by Arsenal in 1996 and is still going strong at the London club, who have being crowned champions of England three times and won the FA Cup five times during his tenure.
Wenger will come up against injury-hit Monaco for the first time since leaving the club in the first leg on Wednesday and the Arsenal boss admitted he was taken aback when the draw was made.
"To be honest it was a surprise, because I always expect the most prestigious team to come out against us – that has happened the last five or six years," he told Uefa's official website.
"It's also one of those strange coincidences in life, because between them these two clubs account for 25 years of my life. That's very unusual, to meet in the Champions League. It was a little bit of an emotional shock."
Arsenal have failed to reached the quarter-finals in each of the last four seasons – losing to Bayern Munich in each of the last two campaigns after Milan and Barcelona also beat them in the round of 16.
Wenger's men moved up to third in the Premier League courtesy of Saturday's 2-1 derby win at Crystal Palace and head into this tie on the back of three consecutive victories.
Monaco should also have a spring in their step after securing a 1-0 derby victory at Nice on Friday despite playing with 10 men for 45 minutes following Aymen Abdennour's dismissal.
That victory – which moved Leonardo Jardim's men up to fourth in Ligue 1 – came at a cost, though, as full-back Layvin Kurzawa suffered a thigh injury and is a doubt for the clash with Arsenal.
Jardim also has concerns over Ricardo Carvalho (calf) and Andrea Raggi (knee), while midfielders Tiemoue Bakayoko (thigh) and Yannick Ferreira Carrasco (knock) also face a race against time to be fit.
Striker Lacina Traore (fractured tibia) is definitely out and captain Jeremy Toulalan misses out due to suspension.
Arsenal, who will have to keep former Tottenham striker Dimitar Berbatov quiet, have concerns over midfielders Alex Oxlade-Chamberlain (groin) and Aaron Ramsey (hamstring)
This is the first ever competitive meeting between Arsenal and Monaco.
Auxerre are the last French team to beat Arsenal, it was in the 2002/03 Champions League group stages (2-1 at Highbury)
Arsenal are the only team, alongside Real Madrid, to have reached the knockout stages of the Champions League in every season since the new format in 2003/04. They have however been knocked out in the last 16 in each of the last four season.
Eduardo da Silva
On this day 2008…read full article
Crystal Palace vs Arsenal review and player ratings
Much of the pre match talk was about the return of Arsenal boy Jack Wilshere. He returned to full training a week back and was expected to be part of the squad.
Arsenal had not lost at Selhurst Park for over 30 years but faced a rejuvenated Palace side, taken charge by Alan Pardew. He lifted the team from clutches of relegation into the bottom half of the table.
Everyone knew this was no easy game, but Arsenal were boosted by the fact that Palace's in form player and former Gunner Chamakh was ruled out with a hamstring injury. Also Sanogo was ineligible to face his parent club.
For Arsenal Ospina continued in goal, with Chambers filling at RB for the injured Bellerin. Mertesacker and Koscielny partnered at CB with Monreal out on the LB position.
In midfield Cazorla and Coquelin were part of a deeper midfield duo with Ozil playing in his favoured no 10 role.
Sanchez and Welbeck started out in the flanks and Giroud led the line. Walcott and Wilshere were among the substitutes.
FIRST HALF
It was visible right from the off that Monreal was considered Arsenal's weak link and one Palace were looking to exploit. Zaha was given the ball and expected to take on Monreal for pace and even succeeded early on.
However Arsenal took the lead from the spot, after Welbeck was fouled by Souare. It looked like the foul was outside the box but the penalty was awarded and Cazorla made no mistake finishing it with aplomb.
Coquelin should have probably been sent off for what looked a very harmful high boot tackle on Campbell. He however escaped without any card at all surprisingly.
Then, with half-time approaching, Arsenal doubled the lead through Giroud. Alexis giving a perfectly-weighted ball to Welbeck. Danny advanced at goal and, Speroni saved his attempt, was powerless to stop Giroud from converting the rebound.
It was us having a 2 goal lead although we seemed far from convincing. A very interesting statistic from the game-this was the ninth successive game in which Wenger's side have scored during the first half hour. During the beginning of the season we struggled for early goals so it is a good positive change.
SECOND HALF
Palace started the 2nd half with much more intensity, but the game plan was the same- pass to Zaha, beat Monreal, cross. It didn't work in the first half and did not seem like it would in the second.
Ozil then had a header flick the crossbar after Alexis crossed. For all of Palace's intent Arsenal had superb pace to punish Palace on the counter.
The first half both sides were narrow and openings seemed rare, the second was understandably a much more open as Palace needed a goal back. Just before the hour mark it should have been 3-0 to Arsenal after some lovely work by Ozil to set up Sanchez, he missed his attempt by a very small margin, but one you would expect the Chilean to score.
Palace had a decent chance when Dwight Gayle headed over a cross. The warning signs were there for the Arsenal, one they did not seem to heed to.
Puncheon then had a decent free kick attempt just missing the goal with Ospina rooted to the spot. Had that gone in we would be in so much more trouble.
Wenger brought on Gibbs and Rosicky to slow the game down and help Arsenal defensively. Later on towards the end Gabriel was brought on for his league debut.
None of this helped however for too long. After some defensive scramble Glenn Murray scored his first league goal in over a year as Palace pulled the score to 2-1 with 91 minutes gone. There were 3 minutes left to go.
Luckily for us Murray hit the cross bar with almost the last touch of the ball when he should have scored. 3 points the most important thing, especially as United and Southampton dropped points so we sit in 3rd for this weekend atleast.
PLAYER RATINGS
13: David Ospina (6): Had a few scary moments rushing out on set pieces. Hardly looking confident in the past few weeks.
21: Calum Chambers (6): RB just does not seem like his position. His lack of pace is very apparent.
4: Per Mertesacker (7): 7/7 in aerial duels and made 20 clearances. Had a decent game.
6: Laurent Koscielny (7): Did what he had to do, but still seemed unconvincing at times.
18: Nacho Monreal (6): Was exposed badly by Zaha. Luckily for him Zaha's end product was lacking. Did improve as the game went on to his credit.
34: Francis Coquelin (6.5): Should have had a red card early on. Otherwise made a few important interceptions but also gave the ball away a few times.
19: Santi Cazorla (7): Scored a goal and had a decent game overall. Everytime he got the ball it was inevitable that he would be on the receiving end of a rash tackle from Palace players.

23: Danny Welbeck (7.5): Won the penalty and was also the reason for getting the 2nd goal. Decent performance from him, but he needs to start scoring more goals.

11: Mesut Ozil (7): Put some decent passes through, especially creating a chance for Alexis after some decent dribbling.
17: Alexis Sanchez (6): Not a great game for the Chilean who has now gone 5 games without scoring.
12: Olivier Giroud (7): 8 goals in 11 games and his 50th for the club. Proving a great acquisition, especially for 12 million.
SUBSTITUTES
3: Kieran Gibbs (6): Hardly did anything of great significance.
7: Tomas Rosicky (6): Ditto.
5: Gabriel (N/A): On for his league debut.
Danny Welbeck is relishing the chance to test himself against the world's best players in the knockout stages of the Champions League.
The England forward has already impressed in Europe this season, scoring a hat-trick against Galatasaray in Group D, but remains eager to prove himself further.
The Gunners host Monaco in the last 16 on Wednesday and Welbeck is confident they have the quality to progress to the quarter-finals.
"It's a special competition," the forward said. "You get to play against different styles of play, the best sides in Europe and it's something that a lot of the players look forward to. It's massive if you can get far in the competition and that's what we're going to be doing this season.
"I would love to keep on progressing to the last stages of the competition and that's the aim for all the players here. Testing yourself against the world's best players in the Champions League is a great challenge.
Crystal Palace v Arsenal 1:2 post match interview
SANTI CAZORLA is happy at Arsenal.
The Spaniard's future at the Emirates has been up in the air after reports in Spain suggested he'd agreed a deal to join Atletico Madrid.
Earlier this week, Spanish football expert Guillem Balague confirmed last season's Champions League finalists were interested in signing the diminutive midfielder, who has scored seven goals for the Gunners this season.
But Arsenal fans needn't worry.
According to, El Confidencial journalist Kike Marin, Cazorla, who moved to the Emirates in 2012, is happy at Arsenal and has recently bought a house in London.
He tweeted: "Santi Cazorla is so happy at Arsenal that he has bought a house in London.
"Atletico Madrid should wait…" thegunners247.uk
Will Wenger get one over on former employers Monaco?
With seven victories from their last eight fixtures in all competitions, Arsenal are undoubtedly in the best possible form ahead of the upcoming Champions League clash with Monaco. It provides an opportunity for Arsene Wenger to bite the hand that once fed him, with the Frenchman facing his former club for the first time since leaving for a stint in Japan in 1995, before he joined the Gunners a year later. His team have found top gear at the best possible time, and while Arsenal continue to surge forward in the Premier League and FA Cup, the return of European football should rejuvenate the players even more. A two-legged tie against the French Principality side promises to be an intriguing spectacle, but while Arsenal will be considered strong favourites to progress, they would be unwise to under-estimate their Ligue 1 opponents, despite them not being in the best of form leading up to the first leg at the Emirates.
Strong favourites
The comfortable 2-0 home victory against Middlesbrough in the FA Cup was made possible by a scintillating first half which not only blew away their Championship opponents, but also illustrated just how ruthless Arsenal have become since the turn of the year. There may be plenty of room for improvement where the defence is concerned, but a slight tactical tweak has enabled Wenger to get the very best from Santi Carzola and Tomas Rosicky who have pulled the strings in midfield. The alteration has proved hugely beneficial for Olivier Giroud who appears to be recapturing his lethal goal-scoring touch following his injury layoff at the start of the season. Both aspects will be key to Arsenal's hopes of getting past Monaco, particularly in the first leg where the French side are likely to sit back and try to frustrate the Gunners in the hope of taking a positive result back to the Stade Louis II. Wenger may be able to include Alex Oxlade-Chamberlain in his squad if he recovers in time from a groin problem, but the first leg at the Emirates will come too soon for Aaron Ramsey who will remain on the sidelines until next month with a hamstring injury.
Faltering Monaco
While Dimitry Rybolovlev's dream of transforming Monaco into a dominant European force promised much at the beginning, it has since disintegrated in front of their eyes. Progressing to the Champions League knockout stages as Group C winners should be considered an achievement for a club that were playing in Ligue 2 less than 2 years ago, but the days of big money signings appear to be over. Losing James Rodriguez and Radamel Falcao during the summer was a big loss for Leonardo Jardim who has found the pressure of repeating last season's title challenge difficult to handle, and despite a wonderful unbeaten run during December and January which produced 11 victories in 12 games, a difficult February has left them 11 points adrift of Ligue 1 leaders Lyon.
Arsenal will come up against a team with the joint-best defensive record in France, but should be encouraged by the lack of goals Monaco have registered at the other end. Losing James Rodriguez and Falcao has removed any sort of true quality in attack, and while Joao Moutinho and Dimitar Berbatov are their standout players, their inability to score may prove costly against Arsenal who have found goals easy to come by in 2015.
Arsenal Latest News : "I've taken FA Cup so seriously say's" Arsene Wenger "it's cost us in Champions League "
Arsene Wenger admits his obsession with the FA Cup has affected Arsenal's Champions League bids over the years.
The Gunners boss leads his team into battle against Middlesbrough as favourites to land the trophy for the second successive year.
But Wenger, who beat Hull in the final last season – Arsenal's first trophy since 2005 – believes the club could have done even better in Europe had he not taken the FA Cup so seriously and fielded strong sides every year.
The Gunners boss said: "It is important to us and we have always taken it seriously. We did not always manage to win it, but we have won it five times during my period here.
"Nobody has won it more in the last 18 years, so we have always taken it seriously. Sometimes so seriously that we suffered in the Champions League.
"Many times a cup game was in front of a Champions League game – for instance this week we play in the cup and then the week after next in the Champions League. Many times we lost some players.
"I remember against Manchester United when we played against Chelsea in the Champions League three days later we lost some because we took the game seriously."
Aitor Karanka: 'Jonathan Woodgate was close to retirement'
Middlesbrough head coach Aitor Karanka has admitted that he is delighted to have persuaded Jonathan Woodgate to continue his playing career, after the defender briefly considered retirement.
Woodgate hadn't made a league start all season before featuring against Blackpool in midweek, a game in which he netted, and Karanka has revealed that he regards the former Real Madrid player as an important member of his first-team squad.
The Spaniard told the club's official website: "Woody is very important to me and I'm very pleased to see him enjoying this moment. I wouldn't have said this, but two weeks ago, he said he was thinking of retiring.
"I had a chat with him and told him that he needed to enjoy his last days as a player. For me, to be a player is the best thing in the world.
"I convinced him and now he's enjoying the moment. It's very important for the team and club, and I'm very pleased."
Despite his lack of match fitness, Woodgate could start against Arsenal on Sunday, with defensive duo Daniel Ayala and Tomas Kalas both sidelined.
Arsene Wenger admits major concern over Gabriel Paulista
Arsenal manager Arsene Wenger has admitted that he's concerned the language barrier will prevent January signing Gabriel Paulista from making a strong start to his career with the Gunners.
Wenger spent £11.3 million on the Brazilian defender last month, primarily to provide cover for the over-worked centre-back pairing of Laurent Koscielny and Per Mertesacker.
Gabriel is at a major disadvantage before he kicks a ball though, with Wenger conceding that he's never signed a player in his position that can't speak a single word of English.
TALK ABOUT PILING ON THE PRESSURE
Wenger believes that in defence the problems that can arise from not being able to communicate properly are far more serious than in any other position, telling The Guardian: "Look, it is a problem. When you don't speak English and you don't understand: 'Come out, come back, right, left,' it is a problem for a defender. You need to know the key words: 'Referee. Offside. Foul'.
"He's the first defender I've brought in with no English. In terms of other players, José Reyes was not fantastic with his English, even when he left. But Thierry Henry arrived here and three months later, he was fluent in English. Some learn quickly. For some people, it takes longer. Gabriel is very focused. We'll see."
WENGER ATTEMPTING TO DOWNPLAY EXPECTATIONS
Gabriel has two weeks full training under his belt at London Colney and is now ready to make his debut, which should come against Middlesbrough in tomorrow's FA Cup fifth-round tie at the Emirates.
Thankfully for Gabriel he has a manager who thought the gamble on his raw potential was worth taking, so Arsenal fans can expect strong performances with a physical, pro-active style of defending from the outset.
Brazilian to make Arsenal debut against Middlesbrough
Transfer window signing Gabriel Paulista could make his debut in defence when FA Cup holders Arsenal play Middlesbrough in Sunday's quarter-final at the Emirates.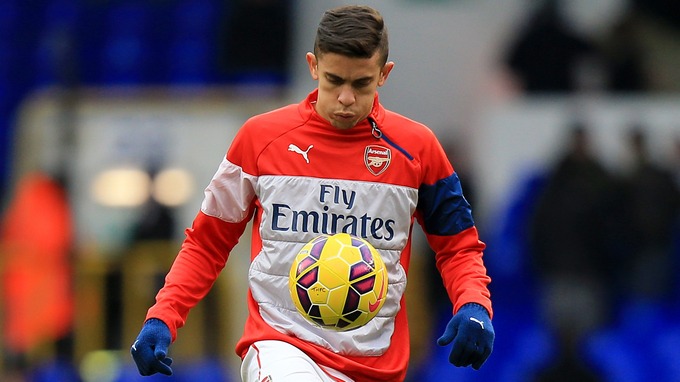 Midfielder Aaron Ramsey (hamstring) is out for around two weeks, while forward Alexis Sanchez may not be risked after taking a blow to the knee in the midweek defeat of Leicester.
England international Jack Wilshere could return following a lengthy absence after ankle surgery, but Alex Oxlade-Chamberlain (groin) Mikel Arterta (ankle), Abou Diaby (calf) and Mathieu Debuchy (shoulder) are all still out.
Arsenal Squad: Ospina, Gibbs, Koscielny, Mertesacker, Bellerin, Coquelin, Cazorla, Ozil, Sanchez, Walcott, Giroud, Szczesny, Welbeck, Monreal, Chambers, Rosicky, Flamini, Akpom, Gabriel.
Jack Wilshere Return
Jack Wilshere could be part of the Arsenal squad for the FA Cup tie with Middlesbrough after returning to training this week.
England international Wilshere underwent ankle surgery in November after picking up the injury in the Gunners' 2-1 defeat to Manchester United but is now in line to make his comeback.
Meanwhile, manager Arsene Wenger has indicated Gabriel could make his debut against Boro having been on the bench for Arsenal's last three matches since joining from Villarreal.
Midfielder Aaron Ramsey (hamstring) is out for around two weeks, while forward Alexis Sanchez may not be risked after taking a blow to a knee in the midweek defeat of Leicester. Alex Oxlade-Chamberlain (groin) Mikel Arteta (ankle), Abou Diaby (calf) and Mathieu Debuchy (shoulder) are all still out.
Premier League results keep BIG pressure on Arsenal
There was very little for Arsenal fans to cheer about in the Premier League tonight. The only result that did Arsene Wenger and the Gunners any favours at all was the Southampton game against West Ham at St. Mary's which ended in a draw.
That takes the Saints a point above the Gunners and they still have a slightly better goal difference than us. And with Man United managing to beat Burnley at Old Trafford, that drops us out of the top four again and piles the pressure on for what is looking like the closest and most contested race for the final Champions League places ever.
At least the performance of United under Louis van Gaal was poor again and you would hope that they start to get punished for being so bad, although Arsenal were not exactly fantastic yesterday. On the whole though I think we have been better than them and it is inconsistency rather than just being rubbish which has cost us.
Southampton are becoming a real worry though and will be gutted to not take advantage after West Ham had their keeper sent off and Arsenal should be breathing a big sigh of relief that the Hammers held on because Southampton could be the team we need to beat to finish fourth.
And any Arsenal fans that were still looking up can pack it in now after Chelsea and Man City both won. So will we get the Wenger trophy again this season? And will that be enough if we do not get another trophy?
Arsenal v Leicester post match review
Arsene Wenger gives injury update on Aaron Ramsey and Alexis Sanchez after Leicester win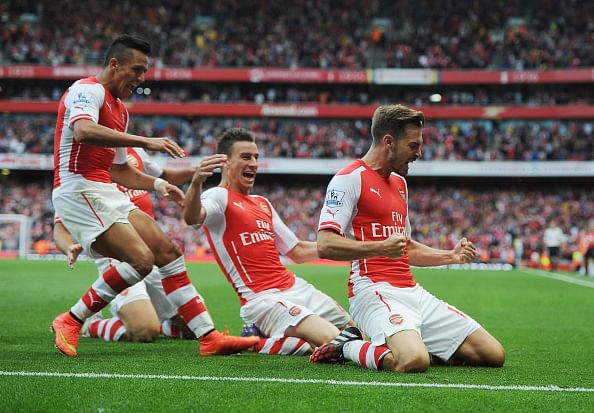 Injury news, read full article….
Arsenal Team News & Leicester City Preview
Arsene Wenger hopes to banish memories of Arsenal's derby defeat by Tottenham when struggling Leicester City visit the Emirates Stadium in the Premier League on Tuesday.
Arsenal threw away a one-goal advantage on Saturday as Harry Kane's double earned Soyrs a first win over their local rivals in five attempts in all competitions.
Tuesday's visit of Leicester presents Arsenal with a chance to bounce back swiftly from that disappointment and Wenger expects a reaction from his side.
"If you respond well, it's very good," he told the press. "We play at home against Leicester – a team who are fighting not to go down – so always we have to recover from that disappointment and be ready to respond very quickly."
Saturday's 2-1 defeat at White Hart Lane saw Tottenham climb above Arsenal into fifth but Wenger remains confident that his side can finish above Mauricio Pochettino's men.
"We have played two more away games than Spurs," he added. "Spurs have played 13 at home and 11 away and we have played 13 away and 11 at home so I think it's down to our home form now. We know we can win away from home but it will be a battle until the end. It has been every year with Spurs, you know.
"We just have to focus on us with that many teams fighting to get in there [into the top four]."
Basement club Leicester come into Tuesday's fixture on the back of a disappointing result of their own, having lost 1-0 at home to Crystal Palace on Saturday.
Only four points separate the Foxes from 17th-placed Burnley but few away supporters will head to the capital confident of making any kind of dent in that deficit, despite holding Arsenal to a 1-1 draw earlier in the season.
However, manager Nigel Pearson remains focused on the task at hand.
"For myself as the manager of the side who are bottom of the Premier League, what I can't do is hide from the facts," he told reporters. "The facts are that we are where we are and, so far, we have not been beaten in a game where we've been absolutely rollercoastered.
"We looked like we could have been in the first half against Man United, but we rallied in the second half. We've been competitive.
"We're not going get downbeat by how people possibly want to write us off after a result like [Saturday]."
Leicester are not thought to have any fresh injury concerns, while Alexis Sanchez could make a welcome return for Arsenal following a hamstring injury.
The Gunners have won the last seven home Barclays Premier League matches against the Foxes in a run of 21 home matches in all competitions unbeaten (W15 D6 L0).
Leicester City have won none of their last 18 matches in all competitions against Arsenal (W0 D8 L10).
Arsenal's top scorer Alexis Sanchez is in contention to feature for the Premier League visit of Leicester City on Tuesday 10 February after recovering from a hamstring injury.
Alex Oxlade-Chamberlain is not available, though, as he continues to nurse a long-standing groin injury.
There is also good news regarding Jack Wilshere who, after undergoing ankle surgery in November, is close to resuming training again ahead of a return before the end of the season.
New boy Krystian Bielik could make Arsenal debut against Leicester tonight
KRYSTIAN BIELIK could be in line to make his Arsenal debut against Leicester tonight.
The 17-year-old Pole, signed from Legia Warsaw for £2.5m, was due to play for the Under-21s at Newcastle last night.But he was pulled from the squad at late notice and instead trained with the first team.It's a small hint that he could be handed a spot on the bench by Arsene Wenger after impressing Gunners coaches in training.
Wenger claimed last week that Bielik would feature at Newcastle along with Serge Gnabry.He said: "Serge will play on Monday night at Newcastle, with Bielik. Bielik is coming along very well."Gnabry made his first appearance in 11 months in front of 1,305 fans at St James' Park in a 2-1 win.Alex Iwobi's early Arsenal strike was cancelled out by Dan Barlaser before Austin Lipman struck the winner.
Arsenal will finish third in Premier League but Tottenham can make top four too
Charlie Nicholas expects Arsenal to finish above Tottenham come the end of the season – but says both teams could make the top four.
Spurs leapfrogged their arch-rivals into fifth with a 2-1 win in Saturday's north London derby but the Sky Sports pundit reckons a favourable fixture list for Arsenal, coupled with Tottenham's Europa League commitments, will favour the Gunners.
"I still think Arsenal should finish third," he said.
"As much as it's painful for Arsenal fans, including myself, you've got to put your hands up and admit the best team won on Saturday.
Mauricio Pochettino's men remain outsiders to land a Champions League qualification spot, with Sky Bet listing them as 100/30 for a top-four finish, while Arsenal and fourth-placed Manchester United are odds-on to achieve that feat.
Like the bookies, Nicholas expects Southampton, who are currently third, to slip away but thinks United could miss out, too, handing Spurs the opportunity to return to the top four for the first time since 2011/12.
However, Spurs will face a stiff test away to Brendan Rodgers' Liverpool side on Tuesday night, said the Soccer Saturday pundit.
"I haven't been impressed by Manchester United and think that Tottenham and Liverpool are bigger threats, although European football will be a hindrance to both of them.
"Spurs are capable of winning at Liverpool but it's a big challenge for them. If they can win at Anfield and maintain this form then I'd actually expect Spurs and Arsenal both to finish in the top four."
Harry Kane is a Gooner
It's no secret that Tottenham hero Harry Kane used to play for Arsenal, with pictures emerging recently showing him playing for the Gunners youth team.
But the man who Spurs fans sing is 'one of our own' and who says playing for the club is 'a dream' – used to be a huge Arsenal fan.
This picture has emerged of a young Kane from 2004, celebrating Arsenal winning the Premier League title at White Hart Lane. Awkward.
The release of the picture is definitely a bitter move after Kane scored two goals in Spurs' 2-1 victory over Arsenal in the north London derby, but still. What a turn coat.
Arsenal boss Arsene Wenger admitted his side were deservedly beaten by Tottenham in the north London derby.
Two second-half goals from Harry Kane at White Hart Lane saw Spurs recover from a goal down to win 2-1 and secure their third league win in a row, lifting them above the Gunners in to the Premier League's top four.
Arsenal had led through Mesut Ozil's smartly-taken 11th-minute opener, but Wenger felt his side did not do enough to maintain their unbeaten start to 2015.
"The only regret I can have today is that we gave two cheap goals away, but Tottenham deserved to win this game," the Frenchman said.
"I'm disappointed with our offensive performance today because we didn't produce enough and I think technically we were short in many aspects of our game.
"I feel we gave away balls in some areas that despite the pressing we should not lose, and some players were well below par today on that front."
The visitors were forced to withstand lengthy spells of home pressure, with Gunners 'keeper David Ospina required to make a string of saves.
The defeat was Arsenal's sixth in the league this season and puts a dent in their Champions League qualification hopes, but Wenger remains upbeat about his side's chances.
"It's a significant day because we lost, but we've played 13 away games and 11 at home, so we've now got a good home run," he said.
"I felt (Hugo) Lloris made some great saves and every time we went in their half we looked quite dangerous, but once again the regret is that in decisive moments in the game we couldn't keep our defensive focus.
"It's time to recover from that disappointment and prepare for the next game now."
10 reasons whyArsenal should beat Tottenham in Saturday's north London
A better group of players, recent history and current form are among the reasons why Arsene Wenger will be feeling confident
1. Arsenal are the better team
It may sound simple, but Arsenal have the better players, the deeper squad, and go into the match with a two-point lead over their north London rivals. Hugo Lloris would of course walk into the Arsenal team, but how many other Spurs players would get in? Jan Vertonghen arguably, Harry Kane possibly, Christian Eriksen maybe (though Mesut Ozil, Santi Cazorla, Alexis Sanchez and Theo Walcott would not be easy to get past), and really that's about it.
2. Recent history is in Arsenal's favour
Arsenal have won five of the last seven meetings between the two sides, with Spurs winning just one in that time. In those matches Arsenal's record is scored: 16, conceded: 7. Overall Arsenal have 64 league wins to Tottenham's 49, with 42 draws.
3. Arsenal have the squad to absorb injuries
Yes they may be without Alexis Sanchez, Alex Oxlade-Chamberlain, Mikel Arteta, Jack Wilshere and Mathieu Debuchy, but at last Arsene Wenger has a squad to compensate for such setbacks. Theo Walcott and Mesut Ozil will start in place of Sanchez and Oxlade-Chamberlain, while Francis Coquelin's emergence has made light of Arteta and Wilshere's absence. Debuchy being out meanwhile has barely registered, such has been the excellent form of the exciting Spaniard Hector Bellerin. Even with all their injuries, should they need a goal on Saturday the Arsenal substitutes bench will likely include Tomas Rosicky and Danny Welbeck. While if they need to shut up shop, Arsene Wenger will be able to call on Calum Chambers, Kieran Gibbs, Gabriel and Mathieu Flamini. Not bad defensive options.
4. Wenger has players getting back to their best
Ozil and Walcott have both started the last two matches after long-term injuries, and both have scored in each of those two games. Walcott appears to have lost none of his terrifying pace, while a stronger-looking Ozil looks refreshed from his enforced break. He even broke into a few defensive sprints against Aston Villa on Sunday, as Sanchez's infectious enthusiasm continues to spread to all areas of the squad. Bellerin is another one who is getting better each week, while Nacho Monreal is in the form of his life, and keeping the consistent Gibbs out of the team.
5. The Emirates side are in electrifying form
Arsenal have won their last five matches, scoring 15 goals and conceding just two. Encouragingly for Wenger that run has been achieved while using the full depth of his squad, and eight different players have scored in that period. Spurs themselves are in good form, but the defeat to Leicester and draw with Sheffield United will have concerned Mauricio Pochettino.

Playmaker Mesut Ozil looks better than ever since returning from injury (AP)
6. Arsenal are less tactically naïve than in previous years
Last month's 2-0 win away at Manchester City appeared to be something of a light bulb moment for Wenger. 'Hold on, maybe there is a merit to playing a specialist holding midfielder and not telling your full-backs to bomb forward at every opportunity,' Wenger seemed to finally be realising. Arsenal's recent defeats to Tottenham were largely self-inflicted by suicidally high defensive lines – see Gareth Bale racing unopposed through the Emirates pitch with Arsenal leading 2-0 in 2010, or the same player sauntering through a woeful offside trap in 2013 – but they appear to have finally learned from such mistakes.
7. Tottenham have struggled at White Hart Lane this season
Home league defeats to West Brom and Stoke are indicative of the difficulties Spurs have experienced at home this season when trying to break teams down. Admittedly Arsenal will not be set up purely to defend, but they go into the match two points ahead of Tottenham, so the onus will be on Saturday's hosts to win the game. Pochettino's side are yet to convince this season that they are not primarily a counter-attacking team who labour when the emphasis is on them to attack.

Pochettino's team have often failed to break teams down 
8. Santi Cazorla is unstoppable right now
The little Spaniard has been in sensational form since the start of December – his last ten games have yielded six goals and five assists. With Coquelin marshalling the midfield behind him, Cazorla has had the license to more or less do as he pleases, and he has relished his newfound freedom. Such has been Cazorla's influence in recent weeks that Paulinho or Ryan Mason may be tasked specifically with stopping the 30-year-old, but even that could benefit Arsenal by opening up space for the likes of Ozil, Walcott and Ramsey.
9. David Ospina has not conceded since replacing Wojciech Szczesny
Ospina has kept four clean sheets in four matches since coming in for the smoking Pole, and is more authoritative than the erratic Szczesny. Despite resembling a slightly overweight businessman, Ospina has a knack for being in the right place at the right time, and his ability to deal with crosses and organise his defence could be crucial on Saturday.

Arsenal have looked better since Ospina has replaced Szczesny (GETTY IMAGES)
10. Spurs haven't cut out the defensive lapses in concentration
In two out of Spurs' last three matches, they have conceded a pair of quick-fire goals when looking completely comfortable. First, they contrived to lose at home to Leiecster with two goals in the final seven minutes, before repeating the trick four days later against Sheffield United when they shipped two in two minutes. Any similar lapses in concentration will be punished by an Arsenal team who have averaged three goals per game in their last five matches.
Wenger rules out Alexis for North London derby
Arsene Wenger said the Chilean international could be fit for next Tuesday's league match versus Leicester City
The latest is that Alexis is not ready. He is not far away, the Leicester game is a possibility. He is of course very difficult to keep quiet! He is training but it's light training.
Had this been 1-2 months ago, there would have been a legit concern as to whom Wenger could start out wide. But with the return of Mesut Ozil and Theo Walcott, and the type of effective interplay they showed during last weekend's thrashing versus Aston Villa, Wenger shouldn't feel the need to rush back a player who's featured in the most matches all season long for the club – regardless of the derby match in two days' time. If there's anyone on the squad who could probably stand to benefit from a couple week's worth of rest, it's Alexis.
Wenger also gave updates on Danny Welbeck (should be in the squad this weekend), Wilshere (back to training next week, hopefully only after he learns to finally put the tobacco down), Alex Oxlade-Chamberlain (not quite back to full training), and Serge Gnabry (playing in the U21 match next Monday versus Newcastle).
Arsenal star smoking again !
ARSENAL ace Jack Wilshere has been caught up in another smoking row after being pictured holding a shisha pipe.
The Gunners midfielder could be set for a bust-up with Gunners chief Arsene Wenger after being pictured on social media holding the pipe on a night out.
The picture first appeared on a friend's Instagram account, before being swiftly removed.Wilshere has not played since Novemeber following ankle surgery, but is thought to be nearing a return to action.The England midfielder has been caught up in rows over his off-pitch behaviour before, when he was pictured smoking outside a London nightclub in 2013, and at a pool party in America last summer."The smoking? Of course I regret it," he said when asked about the incident in the US."I have been seen before doing it. I said then I made a mistake and I have made a mistake again. People make mistakes."I am young and I will learn from it. I realise the consequences it has and the effect on kids growing up."I have kids myself and I don't want them growing up to think their dad smokes and it is okay for a footballer to smoke, because it's not."It is unacceptable and I will accept the consequences and I will move on."
 Arsenal vs Aston Villa 5 : 0 – Theo Walcott & Mesut Ozil post-match interview
Why Arsenal keeper Ospina is giving Szczesny NO CHANCE
I know that it is still a bit too early to really judge just how good the Arsenal and Colombian international keeper David Ospina is going to be in the English Premier League, or even whether he is going to continue to keep out our long standing number one Wojciech Szczesny.
But how often do we hear people say that it takes time for players to get used to the rough and tumble of football in England? So maybe we should give some more credit to Ospina for the way that he has hit the ground running, just as the TV pundits and fans have been raving over Alexis Sanchez.
Because our new keeper has some pretty amazing stats so far. After conceding the fewest goals in the group stages of the World Cup finals last summer, the 26-year has conceded no goals in his three Premier League games, no goals from his one FA cup game, one penalty given away by Szczesny in the Champions League and the two in his debut against Southampton in the League cup.
And when you put him up against David De Gea and Thibaut Courtois in the Squawka.com stats comparison, he looks even better.
Going on a 90 minute average, Ospina comes top or joint top in the key categories of saves per game, saves per goal, punches per game, catches per game and clean sheets, as well as the overall scores. So while it is clear that we will need more time to judge him, Ospina has made a fantastic start and is really giving his competitor no chance whatsoever of getting a Premier League start anytime soon.
Have Arsenal really got a new number one? And could the signing of Ospina prove to be nearly as important as that of Alexis?
Chuba Akpom snubs FOUR Premier League clubs to sign new Arsenal deal
CHUBA AKPOM is ready to put pen to paper on a new long-term contract at Arsenal…read more…
Arsene Wenger to keep Chuba Akpom at Emirates until end of the season
Arsenal manager Arsène Wenger hoping forward Chuba Akpom will sign a new three-year deal with the club and is not expected to add to his squad before the transfer window closes
Arsenal are intending to keep Chuba Akpom at the club until at least the end of the season, with Arsène Wenger now not planning any further squad movement today.
Having allowed three forwards in Joel Campbell, Lukas Podolski and Yaya Sanogo to all leave on loan this month, Wenger now wants Akpom to stay and is still hoping that the 19-year-old striker will also sign a new three-year deal.
There is interest from both Premier League and Championship clubs in an immediate loan deal for Akpom but he was used yesterday as a substitute in the 5-0 win against Aston Villa and Wenger does not want to risk being caught short of strikers in the final run-in to the season.
Akpom is considering firm pre-contract offers from Borussia Dortmund, Feyenoord and FC Twente for the summer as he decides whether to accept Wenger's offer of a new three-year deal and there is also interest from Manchester City, Liverpool, Tottenham Hotspur and Everton
One attraction in signing Akpom for other English clubs is that he would meet the 'home-grown' criteria for players. Having signed Krystian Bielilk in holding midfield and Gabriel at centre-back, Wenger feels that he has now re-established the right balance in his squad after being defensively short for much of the season and is not intending to make any additions today.
He does still want another central midfielder in the summer – Abou Diaby is likely to leave and the club will be open to offers for Mathieu Flamini – but the emergence of Francis Coquelin has eased the situation. Mikel Arteta has also provisionally agreed a new one-year contract extension.
Southampton's Morgan Schneiderlin is currently the top summer target but he will not be allowed to leave at this stage in the season.
Arsenal's goalkeeper options will also be reviewed at the end of the season, although whether Wenger shops for a new No 1 will depend largely on how David Ospina, Wojciech Szcznesny and Emiliano Martínez finish the season.
"We've done what we wanted unless there's a huge surprise and somebody calls," said Wenger.
Midfielder says yes to four-year deal
Francis Coquelin has opted to remain at Arsenal.
Mathieu Flamini may have left for free after a break-through season in 2008 but Coquelin will not be emulating the mistake of his countryman after agreeing a new deal with the club.
The 23-year-old's current contract at the Emirates stadium was set to expire in June, but according to the Sun, Coquelin decided to put pen to paper on a new four-year contract this week.
It is a deal which will reportedly see the Frenchman's wages almost doubled as he prepares to scoop around £65,000 a week.
With the final terms of Coquelin's contract being wrapped up, Arsene Wenger confirmed during Friday's press-conference that the midfielder's renewal is virtually completed.
"It is 99 percent [certain] that he will stay here." Wenger said about negotiations
But it is not all good news for another French midfielder at Arsenal following claims by L'equipe that Abou Diaby could be released by the club during the summer.
Diaby has managed to play only 67 minutes of football for the Gunners all season as he continues another long spell on the sidelines through a serious calf problem.
The lanky midfielder will turn 29 in May and it now appears that Arsene Wenger is running out of patience.
"At the moment he is not in position to play soon because he is not on the field at all" Wenger recently said
Arsenal v Aston Villa Preview
Alexis Sanchez is set to be rested for Arsenal's game against Aston Villa on Sunday, Arsene Wenger has revealed, while Gabriel Paulista could make his debut for the club.
The Chilean has featured in all but one of Arsenal's matches this season, scoring 18 goals in 32 games, but is believed to be suffering from a slight hamstring strain.
Wenger does have the luxury of a fully-fit Theo Walcott and Mesut Ozil to choose from after the duo returned to the starting XI against Brighton, though, while new signing Gabriel is also available after completing his move from Villarreal.
Speaking about the Brazilian, Wenger told reporters: "I saw great quality. His level of concentration, he's quick, has great commitment and he's young"
"We are in a job where competition exists. The best player of the moment plays."
There was also positive news on the fitness of Jack Wilshere, with Wenger revealing the midfielder could be back in action in just under two weeks.
He added: "Jack is doing very well. He is a week ahead of schedule and should return in 10 days."
However Wenger is set to be without Danny Welbeck and Alex Oxlade-Chamberlain, with the latter expected to also miss the north London derby with Tottenham on February 7 after suffering a groin injury in the win at Manchester City.
For a side that has largely struggled in recent years, Aston Villa have an encouraging record at the Emirates.
The first ever Premier League goal scored at the Gunners' shiny new home back in 2006 was an Olof Mellberg header for Villa in a 1-1 draw,and they have since notched three victories on Arsenal turf – the most recent of which was on the opening day of last season.
Arsenal have lost just one home league game since then – the rather fortunate victory by Manchester United last November – and they've won their last four games, keeping clean sheets in three and surviving a bit of a scare at Brighton last Sunday in the FA Cup.
That win might be most fondly remembered for the performance of 34-year-old Tomas Rosicky, who glided around and probed cleverly before unleashing a fabulous volley to restore Arsenal's two-goal advantage. He's an example to those around him.
In recent weeks the old game of guessing the score according to the intonation of Charlotte Green's voice as she reads out the classified results on 5 live's Sports Report has gone rather flat: "Well obviously it's Villa nil, what else would it be?"
For the record, it is eight hours and 42 minutes since a Villa league goal, when Christian Benteke scored against Manchester United on 20 December.
However, it's just a matter of a few days since we saw a mighty strong contender for Villa's goal of the season so far; admittedly that's one of the shorter short-lists in life, but it was a splendid effort from full debutant Carles Gil (pronounce it Heel) against Bournemouth.
The Spaniard must be buzzing after such a superb strike and Arsenal's defenders will have been warned.
Were Arsenal RIGHT to turn down Tiote transfer?
There will be a lot of pressure on the young shoulders of Francis Coquelin between now and the rest of the season, especially if Arsenal do not sign the top class central midfielder that many were expecting from Arsene Wenger in the January transfer window.
It does look increasingly like the Gunners have wrapped up the shopping early this time, sparing the Arsenal fans the annual torture of transfer deadline day, although many of us will still be hoping for the manager to pull some sort of rabbit out of his transfer hat.
One player that will not be coming to join Arsenal however, according to a Daily Mail report, is the tough tackling Newcastle and Ivory Coast international midfielder Chieck Tiote. And the paper claims that we could have snapped him up for a decent transfer fee of around £12 million after the Magpies offered him to us.
Tiote is the sort of no-nonsense and hard working defensively minded midfielder that many pundits felt Arsenal needed and there is little doubt that the recent performances from Coquelin, which have also earned him a new contract, have convinced Wenger that he already has such a player in the squad. But will Coquelin keep it up and prove that Arsenal were right to snub the transfer of Tiote? Or will the young Frenchman's form or another injury problem leave Arsenal exposed again?
Arsenal may lose Alexis after loaning THREE strikers!
Arsene Wenger has revealed that Arsenal are sweating on the fitness os our star of the season so far Alexis Sanchez. A blow does not quite cover this news for Arsenal fans, it is more like a hurricane.
The manager's latest injury update, revealed on the official Arsenal website, explains that the Chile international forward, who has scored a third of our Premier League goals, is a real doubt for Sunday's home clash with Aston Villa. It is his hamstring that is the problem and Wengers says they will not know if he can play until the day before the game.
I wonder if the Frenchman is now wondering whether he may have been a bit hasty in allowing three of the club's first team strikers, Lukas Podolski, Yaya Sanogo and Joel Campbell to leave on loan. If he had just waited then at least we could have had Campbell available to face Villa on Sunday before heading off to La Liga and Villarreal.
As it is, we are left hoping that Alexis is fit enough and if not, then Wenger has the decision on whether to play Ozil out wide, where he has never really excelled, or to give young Chuba Akpom a start. It also leaves us vulnerable to any more injury problems that might occur in the front line.
Has Wenger dropped another ball on this one?
Arsenal Are Planning A Huge Summer Bid For Luis Suarez
Arsenal are ready to rekindle their interest in former Liverpool striker Luis Suarez, according to reports.
The Gunners, who made an infamous £40 million plus £1 bid for the striker back in 2013, are now ready to test Barcelona's resolve to keep the Uruguayan, according to The Sun.
The Uruguayan, has struggled to repeat his electric form that he showed at Liverpool, following his £75 million summer move, and has scored just five goals in 16 appearances for Barcelona since returning from his biting ban in late October, against bitter rivals Real Madrid.
Andoni Zubizarreta, the man who brought Suarez to Spain, has since been sacked, and the 28-year-old has also fallen out of favour with manager Luis Enrique.
Suarez, the former Anfield talisman was dropped from the team for the recent 6-0 rout of Elche, where Lionel Messi, Neymar and Pedro were all on target.
Arsene Wenger, however, remains a big fan of Suarez and is still keen on the hitman.
Wenger would jump at the chance of teaming Suarez up with fellow South American compatriot Alexis Sanchez at the Emirates should he become available at a cut price.
A striker force of Luis Suarez and Alexis Sanchez would be the best thing at Arsenal since the days of Thierry Henry and Dennis Bergkamp.
Arteta signs new one-year Arsenal deal
The Spaniard had appeared close to leaving the Gunners early last summer, but has now agreed to stay with the club until the end of the 2015-16 season
Mikel Arteta has signed a one-year contract extension with Arsenal, according to his agent.
Arteta's representative Inaki Ibanez told footmercato.net: "Mikel is no longer free next June, because he now has an extra year on his contract."
Goal revealed details of the contract offer in November, and it means Arteta will stay at the Emirates until the end of 2015-16, when he will be 34 years old.
The Spaniard joined the club from Everton in 2011, and last summer it had appeared that an exit was on the cards.
But he has elected to stay with the Gunners for another season, despite struggling with a calf problem which has restricted him to just seven Premier League appearances in the current campaign.
Gabriel Paulista in line to make Arsenal debut against Aston Villa
Arsenal boss Arsene Wenger could hand Gabriel Paulista his Premier League debut against Aston Villa on Sunday, reports the Daily Star.
The same report claims Paulista has passed a medical at London Colney and is on the verge of completing his move to the Gunners. Arsenal agreed an £11.3 million fee with Villarreal with Joel Campbell moving the other way on loan.
The Home Office granted Paulista a work permit on Monday despite him not meeting the 75 per cent criteria for the amount of internationals a non-EU player has to play. Instead, Arsenal put together a case for Paulista being an 'exceptional talent' despite him never representing his country Brazil at any level.
But Arsenal have until Friday to register Paulista, which will enable him to play against Aston Villa. The Gunners are likely to get the necessary paperwork completed in time with the versatile defender likely to be included in the squad.
Per Mertesacker and Laurent Koscielny are both fit to start but the latter has been struggling with a chronic issue with his achilles tendons all season. Wenger may have to rest the France international meaning Paulista could go straight into the starting XI.
However, the 6ft 1in defender is likely to get a cameo performance from the bench if Arsenal are comfortable with 15 minutes or so left on the clock. They are expected to beat Paul Lambert's men easily and a scoreline of 3-0 would give Paulista a pressure-free environment to make his bow in front of 60,000 fans.
Krystian Bielik, who has already completed a move to Arsenal in the current transfer window, is unlikely to feature as he continues to build up his match fitness. The Polish league was in its winter break, and while the 17-year-old will be part of the first-team, he won't be considered for games for at least the next three weeks.
Liverpool are set to make stunning attempt to sign Arsenal striker Chuba Akpom
Liverpool are said to be ready to battle with a host of other leading teams to land Arsenal youngster Chuba Akpom.
According to the Star, Akpom is stalling on a fresh deal at the Emirates and has alerted European sides and a number of Premier League teams, one of which is thought to be Liverpool.
Akpom is out of contract in the summer and came off the bench in Arsenal's 3-2 FA Cup win over Brighton at the weekend. He has been offered pre-contract talks with Borussia Dortmund and Dutch sides FC Twente and Feyenoord – according to Eurosport.
Akpom, who joined the gunners at the age of six, is still some way down the pecking order at Arsenal with Danny Welbeck, Olivier Giroud, Alexis Sanchez and Theo Walcott ahead of him.
Talented striker Chuba was an integral part of the youth set-up last season, scoring 15 times in his 23 appearances for the academy sides.
The England youth international also completed short loan spells at Brentford and Coventry City in the second half of the campaign. Chuba made two appearances for the first team last season and scored a penalty in the shoot-out win against West Bromwich Albion in the Capital One Cup.
He produced impressive showings in the Uefa Youth League and the FA Youth Cup with a combined tally of nine goals in the two cup competitions.
FA Cup draw: Arsenal will play Middlesbrough in fifth round
Holders Arsenal have been drawn against Championship side Middlesbrough in the fifth round of the FA Cup.
Aitor Karanka's side knocked out Manchester City in the fourth round and will visit Emirates Stadium on the weekend of 14 and 15 February.
League One side Bradford City are rewarded for eliminating Chelseawith a home tie against Sunderland or Fulham.
The winners of the replay between Cambridge United and Manchester United will visit Preston or Sheffield United.
FA CUP FIFTH-ROUND DRAW

Crystal Palace v Liverpool or Bolton Wanderers
Arsenal v Middlesbrough
Aston Villa v Leicester City
West Brom v West Ham
Bradford City v Sunderland or Fulham
Blackburn Rovers v Rochdale or Stoke City
Derby County v Reading
Preston NE or Sheffield Utd v Cambridge Utd or Manchester Utd
Crystal Palace will host either Liverpool or Bolton Wanderers, while there are all-Premier League ties between Aston Villa and Leicester City, and West Brom and West Ham.
If League One side Rochdale beat Stoke on Monday evening, they will visit Lancashire rivals Blackburn Rovers in the next round.
The final tie is an all-Championship affair between Derby County and Reading.
After his side were drawn at home to Sunderland or Fulham, Bradford defender Andrew Davies told BBC Radio 5 live: "It's a fantastic draw. It's good to have a home game and the fans will be right behind us. It's exciting. I can't see why we can't get another win."
Loan report- Sanogo scores and assists; Jenkinson progresses in FA Cup
Yaya Sanogo made a significant impact on his second appearance for Crystal Palace, with the striker scoring and providing an assist for former Arsenal forward Marouane Chamakh in an entertaining 3-2 victory over Southampton.
Sanogo was again handed a start by manager Alan Pardew and found the net with a deflected effort after good work from Wilfried Zaha. Chamakh later scored after he followed up a shot from Sanogo as Palace progressed to the Fifth Round.
Sanogo was replaced with 78 minutes gone and will be hopeful of keeping his place in the side for the Premier League game against Everton next week.
Carl Jenkinson was also in FA Cup action, with the right-back playing the entire game as West Ham United beat Bristol City 1-0.
Lukas Podolski started on the right of the Inter Milan front three but was replaced after 66 minutes of their 1-0 defeat to Torino.
Ryo wasn't in the squad as Twente beat Heracles 2-0 on Friday night. Reports last week suggested that the winger's loan spell with the Dutch side is set to be terminated ahead of another temporary move.
Wellington started and played 73 minutes as Almeria were beaten 3-0 by Espanyol.
Jon Toral was introduced for the final three minutes of Brentford's 2-1 victory over Norwich City.
Matt Macey made several good saves but couldn't prevent Accrington Stanley from losing 2-1 to AFC Wimbledon.
Josh Vickers kept a clean sheet as Concord Rangers beat Whitehawk 3-0.
There was no fixture for Austin Lipman's Boreham Wood this weekend.
Francis Coquelin waiting on Jack Wilshere return before signing new Arsenal deal
Arsene Wenger sweating on new contract for Francis Coquelin
Waiting to see if he'll retain his place after Jack Wilshere return
23-year-old midfielder Coquelin is out of contract in the summer
Widely praised for his display in 2-0 win against Manchester City
Coquelin is out of contract in the summer and his outstanding performance in the 2-0 win at Manchester City last weekend means that he is now being courted by Premier League rivals and by clubs in his native France.Arsenal's new midfield star Francis Coquelin will make Arsene Wenger sweat on his offer of a new contract by waiting to see if he is still in the first team when Jack Wilshere returns from injury next month.
Arsenal have offered the holding midfielder a new deal but with the club lining up a summer bid for Borussia Dortmund's Ilkay Gundogan, with Wilshere back from injury in mid February and with Mikel Arteta expected to sign a one-year extension, Coquelin's first- team opportunities look limited.
Coquelin, 23, has been at Arsenal since he was 17 and wants to stay at the club – but only if he is in Wenger's plans for the first team.
He was already resigned to leaving this summer until Wilshere's injury brought an unexpected recall from his loan spell at Charlton last month.
Coquelin has since started in five games, four of which Arsenal have won, conceding just three goals.
The Frenchman was widely praised for bringing defensive discipline to Arsenal's often cavalier approach to games after the unexpected 2-0 win at City.
But with just five months left on his deal, Arsenal may have left it too late to convince him to stay and risk losing him on a free transfer as they did with Bacary Sagna and Mathieu Flamini.
Wilshere is slightly ahead of schedule in his rehabilitation and is expected back in mid February. If Coquelin were to find himself dropped, he would almost certainly have to leave in the summer to ensure more playing time.
Inter Milan hijack Arsenal midfield deal
According to reports in Italy, Inter Milan have come to an agreement to sign Dynamo Zagreb midfielder Marcelo Brozovic. The Croatia international has been linked with a move to Arsenal and it looked at one stage like the payer would be heading to the Emirates.
Calcimercarto have reported that Inter Milan have agreed to take Brozovic on an eighteen month loan deal with a mandatory redemption for a transfer fee in the region of €8m. The Serie A side will pay Dynamo Zagreb in two instalments with €3m paid on his arrival and then €5m at the end of the loan period. It has been claimed the midfielder will tomorrow sign a four and half year contract with Inter Milan and finally end Roberto Mancini's search for a midfielder.
The Italian club have been linked with a few midfield players during this transfer window including Liverpool's Lucas Levia and Atletico Madrid star Mario Suarez. Mancini was only recently made the manager of Inter Milan and he wants to strengthen his squad by bringing in his own players during this window.
This will come as a blow to Arsene Wenger who was keen to bring Brozovic to Arsenal before the transfer deadline. The Premier League side had held talks with regards to a move to the club and Brozovic's agent gave hints a few days ago that his client could be heading to England. However, it seems that Inter Milan have acted the quickest and got in there before the other interested parties.
Should Arsenal be able to buy ANY player in the world?
Wenger said about the Paulista transfer: "It's 50-50 at this moment, yes. We respect the rules in England. When you buy a player who does not fulfil the criteria and needs a work permit, you go in front of a commission and they tell you yes or no.

"We will accept that, we have to respect the rules that are in this country. After, are the rules right or not, that can be discussed. At the moment the rules are like that, you have to go in front of a committee for a work permit.
'Although Arsene Wenger has identified Gabriel Paulista as the answer to our defensive problems this January, Arsenal will have to throw themselves at the mercy of Britain's strict work permit regulations before they can confirm the signing of the Brazilian defender from Villarreal.
Wenger is unhappy with the difference between the UK rules and those of other European countries like Spain or Portugal, and wants the rules changed accordingly. "Ideally I would want to open it completely. Anyone can come in," he said on Arsenal.com. "At the moment, we are in a position where they force you to spend money on a player who sometimes you have identified.
"We had identified Angel di Maria when he was 17. We wanted him to come here. So he goes to Portugal, from Portugal he goes to Spain. Why? Because he could not get a work permit.
"Let's open it completely. We live in a world where artificial protection is negative. If you want to be the best league in the world, you have to accept that you have to produce the best players in the world. The question is, 'How can you produce the best players?'
"There's two ways to approach the solution of the academies. The first is you completely close the borders of the country and you play only with English players. The second is to say, 'Look we have the best league in the world, let's produce the best players in the world'.
"One thing is for sure, if you put a young player with top-level players he has more chance to develop. If you put him with average players he has more chances to remain average. We have to accept that.
"Indian people watch Arsenal v Manchester United and you have more chances to do that if you have an Indian player in one of the two teams. That is the target of the Premier League, to be the best league in the world. So you have to open it completely."
So Wenger has made his point, but he also raises the issue of home-grown English players. If we completely open the borders to let any promising young footballer from anywhere in the world join our academy, then will that stop us from developing more young English players to the detriment of our national team?'
Five reasons why Arsenal will get a positive result against Man City'
The Gunners have a real chance to beat Manchester City this weekend after a strong showing last Sunday against Stoke City and with the Citizens missing a few key squad members.
With last season's 6-3 loss fresh in our opponents minds, it's time to atone for the disappointing defeat and make a statement of intent.
So far this season the Gunners can be pleased with their efforts against the Champions. We thrashed them at Wembley in the Community Shield and almost pipped them at Emirates in the 2-2 draw in September.
Naturally we cannot be 100% confident of a win, a draw should certainly be a minimum. But here are five reasons why we can claim all three points:
1. More time to train
We saw the effects of a full week between games last weekend against Stoke City. Arsenal came out of the blocks flying and snatched an early lead. We can recreate that with a fiery start at Etihad and try to get under the champions skin from the first whistle.
Which leads to..
2. No away UCL leg three days before a lunch time kick off this time
While the focus of this clash may be on last seasons high octane 6-3 loss, there are plenty of factors that went against the Gunners. Not just the appalling refereeing and poor passing mistakes but also the fact that we traveled to Napoli on a Wednesday night with the players returning early Thursday morning before traveling for the Saturday lunch time kick off shortly after. Naturally it works both ways this time round, but considering the Gunners do not have the depth of squad as City it certainly is an added benefit.
3. We have the Player of the Season
Alexis Sanchez continued his insatiable form against Stoke, delivering a perfect cross for Koscielny then scoring a fantastic solo effort after some tenacious work and topped his weekend off with a goal from a free kick.
Alexis has been top drawer not just with his goal and assist contributions but his work rate has been second to none and it has been rubbing off on his team mates. The Chilean will be up for the clash and will hope to build on the stunner he scored in the reverse fixture.
4. Some of City's stars are missing
While many of Arsenal's first choice stars are fit and raring to go, City on the other hand are lacking a certain Yaya Toure who is on African Cup of Nations duty with Ivory Coast, as is new signing Wilfred Bony, while Samir Na$ri has also been ruled out through injury. Factor in that Sergio Aguero has only just returned to full fitness, and Arsenal's chances are certainly helped though clearly it will be no 'walk in the park'.
5. Arsenal's menacing attack is developing coherency
We may have touched on Alexis above, but the likes of Alex Oxlade-Chamberlain, Santi Cazorla and Olivier Giroud have been growing game by game not to mention Tomas Rosicky's fantastic performance against Stoke. The passing and movement going forward has been far more exciting and lethal, something we haven't been able to say about Arsene Wenger's side for much of this season.
No doubt there will be defensive worries considering the loss of Mathieu Debuchy but the Gunners certainly have the weapons to out score City.
Our right back, most likely Calum Chambers, will have a tough time due to his lack of experience in the position and with have to counteract the attacking prowess of players such as David Silva and Aguero. But it could be worse for the Gunners considering our recent injury woes and we go into the tie confident following our recent good form.
COYG!
Jack Wilshere trains with Arsenal ahead of Man City clash
Slowly, slowly, Arsenal's injured stars are returning for the run-in of the season.
Mesut Ozil returned to Arsenal's first team last weekend, in the 3-0 victory over Stoke.
And, Aaron Ramsey and Theo Walcott are also available for Arsenal's trip to Manchester City on Sunday.
On Saturday, Jack Wilshere posted the picture above on his Instagram page, with the following message: "Nice to warm up with the squad today! The boys looking focused before the big game tomorrow….#LetsGo #LiveThisGame"
Wilshere only warmed up with the Arsenal squad but was not expected back from injury for a few weeks yet.
The England midfielder has not played since damaging his ankle in the 2-1 home defeat to Manchester United in November.
Wenger on why he is confident of beating Man City
Arsenal travel up to Manchester to face a Man City side that beat the Gunners 6-3 on their last visit, but Arsene Wenger doesn't believe that was a fair result, and thinks that we can get a completely opposite result tomorrow. "It was not at all a reflection of the game," said Wenger on Arsenal.com. "If you look at the chances on both sides. They scored some of the goals in the last 20 minutes, when we were down to 10 men and had to go forward. We missed chances over there.
"Every game is different though. If you play 10 times against the same team, 10 times it will be different. So let's just focus on the performance of the day."
"How do we get it right? By defending well as a team, by getting the balance right in the structure of the team from the start, and by putting the effort in when you lose the ball to help each other," he said.
"We played well against Man City this season and of course we want to play well again. It is vital for us get a win against a big rival and we have a chance to show that we are ready to do that. I'm confident that we can do it."
Wenger is aware that Arsenal are struggling defensively this season, but he believes that we have one of our best strike forces ever assembled in his reign. "We have never had so many forwards of that quality together," he remarked. "We have plenty of options and plenty of pace in the squad as well. It is about how we use that in order to get the right level of confidence in the side.
"To have that right is to get the right balance between going forward, being creative, creating goal chances and also stopping the opponent from scoring.
"The team is not only made of strikers, the team is made of a balance between strikers, midfielders and defenders and that's what you want to get right until the end of the season."
I wish I could share Wenger's confidence, but Le Prof's record away at Top Four teams has been appalling in recent years. If we CAN pull it off I, for one, will be ecstatic!
Manchester City v Arsenal match preview
Arsenal manager Arsene Wenger looked confident during the press confidence ahead of the grudge clash against Manchester City at the Etihad Stadium on Sunday. He insisted on doing well in the match. Wenger also heaped a lot of praises on Chilean International Alexis Sanchez, who has been Arsenal's top player since his arrival at the Emirates Stadium from Barcelona at the start of the season. He also backed Sanchez to do well in away games too. Here is what Wenger spoke at the press conference according to Arsenal.com:
On the game against Manchester City:
"You have many games when you know you will be judged on your potential. Manchester City is one of them. Manchester United, Chelsea and Liverpool are other games that people have a close eye on to judge your potential. They have always had good teams but we have won at Manchester United, we have won at Manchester City."
Although, Arsenal have been decent against top teams at home, its the away games that they have struggled. Etihad is one such place and Arsene Wenger seems to be confident of getting a result.
"The history will not play a big part in this game. It's the performance of the day that will play the biggest part and the only important part. We did not perform in the top games away from home. I believe we have the potential now to be much more stable and to show that we can do it."
On game plan against Manchester City:
"It's a commitment. It is important that we keep calm, [play with] control and be committed as well. We have to find that right balance between going for every challenge but also not going overboard – we have to respect the rules. We want to win. You have to die and you want to win. What we want is to put the maximum effort in to give ourselves the best possible chance of winning."
In the same fixture last year, the Gunners were humbled to a 6-3 scoreline thanks to Arsenal's highline defensive tactics. And if Wenger's men are set to return with anything from this game, they would have to work hard than it sounds and the key to that will be the discipline showed by their back four.
Team news ahead of the all-important clash:
Mathieu Debuchy, Mikel Arteta and Danny Welbeck are out of the match with an injury. Kieron Gibbs had a test yesterday and he should come back into the squad. Mesut Ozil, Theo Walcott and Aaron Ramsey were available for last week and they are available for Sunday.
It is likely that Wenger might retain the likes of Ozil and Walcott to subsitute roles as they are yet to regain 100% fitness, with Aaron Ramsey having an outside chance to start.
On Alexis Sanchez:
It's possible, he is a player who can play through the middle – but not the way Giroud plays, but because of his mobility. His two assets are the quality of his runs and his reception of the ball. He gets into areas where you can find him. When he gets the ball short he can run at people. But he can also play further forward because of the timing of his runs. He is one of the fastest to adapt to the Premier League. I believe it's because he feels accepted by the other players that he feels he is an important player.
On Sanchez's poor form in away games:
Yes, it's true that at Chelsea and Liverpool he wasn't at his best. But he has some good away games too. It's maybe because the team has not been as effective away from home, because when you are a striker you depend a little bit on how much your team pushes forward. As a team we didn't play as well as we would like and it was difficult for the strikers to get good balls.
Arsenal preparing a club record bid – report
If you had suggested this to us 18 months ago we would have pointed our fingers at you and laughed uncontrollably.
But it appears that, over the last couple of years, the old money clubs of Manchester United and Arsenal have finally been dragged, kicking and screaming into the realities of modern football.
They have realised that if they want to be successful and competitive in this league they have to spend the sorts of figures that Manchester City and Chelsea have been for years.
For so long £20-£30 million was the most at Manchester United and Arsenal would spend on the players they wanted to bring to their clubs. But Arsenal's purchases over the last couple of years – Sanchez and Ozil in particular – represent a new reality.
And we don't think Arsenal need to buy loads of players. One really stellar talent each year would soon turn them into champions. You just have to look at Alexis Sanchez this season to see that one worldy is better than five good players.
Arsenal are now among a host of clubs being linked to the inordinate talents of Paul Pogba. The 21 year old left England two years ago and has exploded into one of the very best midfielders on the planet. But Arsenal are going to have to up the ante again if they want to bring him to the club.
The Express reports:
Juventus to increase Pogba's buy-out clause as Arsenal, Chelsea and Man Utd ready bids
Recent reports expect the European heavyweights to make £77m bids for his services at the end of the season.
At this point we would normally say that Arsenal should be concentrating on buying defenders and anchormen.
But Pogba is so good that he would clearly improve the side. Let's see him in action.
POSITIVE Arsenal injury news on early Wilshere return
Knowing the way things have been going on the injury front for Arsenal since the start of the current Premier League season, we probably have more bizarre and unlucky incidents like the Mathieu Debuchy shoulder injury to come, but this week there is at least some positive news on one of the current crop of crocked Gunners.
This rare positive news is the latest on our England international star Jack Wilshere. The central midfielder, who turned 23 on new years day, was expected to be out of action for at least three months following the unpunished studs up challenge by Man United youngster Paddy McNair at the end of November.
But according to a report by The Independent we could see him back in the Arsenal team around four weeks sooner than first thought as he has responded well to surgery and is already out of the protective boot. He even posted a video of him taking a penalty while coaching his young team, with no holding back and no apparent ill effects.
So while Jack will not be ready for Man City on Sunday or Brighton in the FA cup the following weekend, he may well be hoping to feature in the north London derby with Tottenham on February 7th. If not, at least it is looking very good for Wilshere to be ready to help Arsenal take on Monaco in the Champions League knockout stage and the FA cup 5th round, assuming that we get there.
How big an impact can Wilshere's comeback have on Arsenal for the rest of the season?
Debuchy injury video. Probably 6 week out!
 Arsenal v Stoke 11. January 2015. Review
After the horror show that Arsenal produced away to Stoke a few weeks ago, which was probably the worst 45 minutes from the Gunners for many a year, it was vital that Arsenal put on a much better showing in front of the Emirates crowd.
And the way we started that game, the Arsenal players would have been determined to begin the game well and we certainly did that. Begovic had already had to prodduce two very good saves from Alexis Sanchez and Tomas Rosicky in the opening minutes, but there was nothing their keeper could do to stop Laurent Koscielny scoring with a feee header from Alexis' cross in the 6th minute.
THey were struggling to cope with the slick passing and link up play of Rosicky, Cazorla, Alexis and co, so they had no chance of putting us under the sort of pressure they do at home. Then with just one defender, Hector Bellerin, on the bench, our injury curse surfaced again, with Debuchy taking a bad knock after being pushed into the hoardings by Arnautovic. You could not make it up!
Wenger made the change quickly but it had knocked us off our stride and it took around 10 minutes before Giroud brought another great save from Begovic. The big Frenchman then came close again but put his shot high and wide. Giroud was also getting some rough treatment from Shawcross and as the ref kept letting it go he was losing his rag.
Then with about half an hour gone and Stoke starting to feel abit more confident, awesome Alexis scored our second with a beautiful run and precise finish with a little help in the build up from Rosicky. Then we nearly lost a second full back before halftime after Monreal was clattered by Crouch and needed a cut stitching up. Still no yellow cards though, even though Stoke admit what their tactics will be when facing Arsenal.
Although Arsenal had not managed to finish the game off, we did so almost straight after the restart, with an Alexis free kick creeping in the near post with a deflection. Now you thought it was all about how many we could score and keeping a clean sheet because Stoke looked beaten.
We produced some brilliant football, without finding another goal, before Wenger brought Walcott on for the Ox with 67 minutes on the clock. And he soon made the final change, Ozil for Giroud. Both subs did pretty well and had decent chances to score, but were understandably a bit rusty. Their time on the pitch will stand them and Arsenal in good stead though.
At least we managed to keep the clean sheet, get our revenge on Stoke and build confidence for the games to come. Now for Man City…
Highlights  probably will be removed because fa restrictions and other shits, then you can watch highlights on this link:
Wojciech Szczesny's father launches furious Arsenal rant at 'rhino' Per Mertesacker and Arsene Wenger
Wojciech Szczesny's father has launched a furious rant at "rhinoceros" Per Mertesacker and Arsene Wenger for hanging his son out to dry following his recent calamities.
Father Maciej Szczesny – a former Poland international goalkeeper – said the defence were as much to blame as his son, while denying reports that he was smoking in the shower, even though he admitted he had not spoken to the 'keeper.
Maciej said: "He made a mistake for the first [Southampton] goal, coming too far from the goal, but please look at the Arsenal defence – how these guys are playing is a disaster, but for some reason, nobody pays any attention to it.
"Laurent Koscielny should immediately have run [back] to protect Wojciech, and Per Mertesacker should have stood in the goal.
"Unfortunately they did not do that and gave him zero support, and in that situation Mertesacker showed the agility of a rhinoceros.
"Wojciech is often paying for it [the mistakes], and that he really cares. He needs someone who will critically analyse every game with him, but also remain positive.
"Someone should support him, but the coaching staff at Arsenal are not doing that, meanwhile the entire defence this season is an embarrassment."
Szczesny or Ospina?

Following Arsenal's recent league defeat to Southampton, questions have been asked about the ability of the Gunners current number one Wojciech Szczesny. This isn't the first time that the Polish shot stopper has come under scrutiny. However, is it really fair?
In the previous league game against West Ham, Szczesny was brilliant. Taking the pressure off his defenders by coming out and either punching or holding on to every cross. This magnificent effort was barely mentioned by the media.
In General this season, Szczesny's form has been consistently good. Showing a much better command of his area and better reading of the game. Yet again though, this improvement has gone largely unrecognized.
Now comes the Southampton game. Szczesny is at fault for both goals that the Gunners concede. The media reaction is huge. Pundits slating him left and right. One even stating "…well I've never liked him as a keeper…this performance goes to show why." This kind of statement only fuels the short term flawed opinions of a large percentage of fans.
Moving on to the recent game against Hull in the FA Cup. David Ospina is now between the sticks. This is nothing new for Arsenal, having adopted a "cup keeper" method of selection in recent seasons. Following the fairly routine 2-0 victory, Twitter is inundated with Gooners calling for Szczesny to be dropped and Ospina to be immediately made number one. This reaction is entirely driven by the media. Fans have listened to what has been said by the "experts", and rather than use their own judgement.
Let me make one thing clear, I am not a big Wojciech Szczesny fan. I think he's very erratic and doesn't fill me with great confidence in high pressure situations. But his form in the main this season needs to be acknowledged. Huge improvements have been made to his game. And as we are all told by every pundit, Goalkeepers don't peak until their 30's. Szczesny is in his mid 20's. So going by that measure, he still has a lot of developing to do. This can only be a good thing for Arsenal.
David Ospina is a fine keeper, and may well be a better option. But unless Szczesny now goes into a terrible run of form, I don't see why he should be replaced. Calling for him to be dropped after one poor game is nonsensical. Let's support our team rather than ridicule it.
Santi Cazorla has been named the PFA Fans' Player of the Month for December.
The Spanish playmaker scored four goals and claimed one assist to help Arsenal keep pace with the Premier League's top four.
Cazorla got off the mark at the start of the month with a goal at Stoke City, before scoring twice – including a 'Panenka' penalty –  as the Gunners beat Newcastle United 4-1. The midfielder then provided the assist for Olivier Giroud's goal in the 2-2 draw against Liverpool before converting from the penalty spot in the 2-1 win at West Ham during the festive period.
The PFA Fans' Player of the Month awards are designed to give a strong voice to supporters and are endorsed by the players and the clubs.
 Mesut Ozil set to return for Arsenal against Stoke
Are things finally taking a turn for the good for Arsenal after enduring the first six months of the season with half their first team players on the treatment table? Theo Walcott finally made his return yesterday and should be able to play the whole 90 minutes next Sunday against Stoke City.
Now a report in the Star is indicating that our 42 million man Mesut Ozil will also be returning to the squad for the same match, although it is unlikely that Wenger would risk him for the full game.
Arsene Wenger is sure that Ozil was carrying his injury from his exertions at the World Cup, and although Ozil may have missed around half of this season with problems, the player himself is sure here is still lots of work for him to do in the remainder of this campaign. "I worked hard." Ozil said. "I finally want to go back on the pitch. That I could only watch with an injury was very difficult for me.
"I want to help my two teams to reduce the backlog – at Arsenal and in the national team.
"In the Premier League anything can happen, a lot can also happen in the Champions League, and Germany are still involved in the European Championship qualifiers."
Although Arsenal fans may not have been overly impressed with Ozil's performances since his arrival, hopefully he is now fully fit and rested and ready to return to the fantastic form he showed at Real Madrid before he came to the Emirates. If nothing else he could help to give Alexis some well-needed rest after the Chilean has carried the team on his own for the first half of the season. And just imagine if have a fully fit squad with Ozil, Walcott, Sanchez and Giroud all playing together?
Arsenal v Hull Review 5. January 2015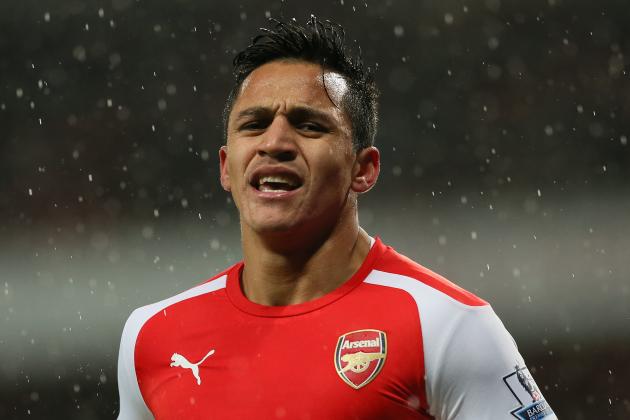 With both Arsenal and Hull City making plenty of changes to their starting line-ups for this third round FA cup clash at the Emirates, you might have expected a slow and cautious start and perhaps a lack of quality from the start, but that was far from the case.
Arsene Wenger gave both Theo Walcott and Joel Campbell a rare start on either side of Alexis up front. The Costa Rican forward nearly gabe the Gunners the lead within five minutes, showing his pace and dribbling skills before a one-two with Sanchez and a prodded attempt that brought a great save from Harper.
But Hull were looking pretty good as well, passing the ball well and getting at s down both flanks. Tom INce came close after about 15 minutes. It was fairly even at that point but Arsenal took control and got the opener with Mertesacker rising high to head in an Alexis corner.
The Chilean almost made it two straight away but was denied by a brtilliant goal line clearance. Walcott also came close as Cazorla and Rosicky started to pull the strings and create chances. Alexis of course was everywhere, but Campbell was also showing some real skill and Walcott some great awreness and movement, especially considering how long he has been out with injury.
But Hull managed to hold out until the break when Arsenal should probably have finished them off. It was pretty similar after the restart, with Hull having decent possession but doing little with it and us looking dangerous on the break but failing to fashion the clear cut chance to finish the visitors off.
A great run by Rosicky early on and then a chance put wide by Campbell on the hour mark were maybe the best chances for Arsenal. But the longer it went on the more we struggled to get any passing going and the more confidence Hull got. Then a great run from Walcott got him onto a through ball but his finish was rusty. It did seem to spark us into a bit of life at least.
More chances came for Walcott, Alexis and others without another goal and Wenger brought Oxlade-Chamberlain on for Theo with 15 minutes left. The Ox nearly had an instant impact but Hull were riding their luck in the penalty box. But with 10 minutes left, Alexis finally finished them off with a lovely curled finish and an assist from Santi.
Akpom then came on for the Chilean and then Maitland-Niles got a couple of minutes coming on for Campbell. Job done for the Gunners.
Podolski Travelling to Italy for Inter loan
Reports from various sources suggest that Lukas Podolski is travelling to Milan this evening to finalise a loan deal until the end of the season.
The German international has been eager to leave Arsenal to get first team football with the Italian side long rumoured to be a possible destination.
Last night, Arsene Wenger admitted Roberto Mancini's side had come back with an offer of interest to the club, saying, "The first proposal was farcical, after they came back a bit more serious, then we will see what happens now.
"Inevitable? Not in the transfer market, it's very difficult to say, but we'll see later."
Later has arrived and it looks as if he's on his way out.