'It's strange for a big team': Pellegrini taking Arsenal lightly as Gunners look to turn form around
'It's strange for a big team': West Ham boss Manuel Pellegrini expects to face Arsenal side hungry to win as Freddie Ljungberg aims to end winless streak
West Ham will host Arsenal on Monday night in a Premier League clash
Arsenal are on a miserable run, having gone nine games without a win
West Ham's form is no better, with Pellegrini's job at risk in East London
The former Man City boss called Arsenal's situation 'strange for a big team'
West Ham boss Manuel Pellegrini will not be taking Arsenal lightly despite their woeful form.
The Gunners head to east London on Monday night on the back of a nine-match winless streak, their worst run in 42 years.
Arsenal would appear to be there for the taking as the Hammers go in search of only their second win in 10 in the league.
Manuel Pellegrini is expecting a tough challenge against Arsenal despite their 'strange' form
Freddie Ljungberg is yet to win as boss in two games since taking over from Unai Emery
The Irons fell to another loss to Wolves in midweek, as they continue to struggle for form
But Pellegrini is anticipating a backlash and warned: 'I expect to see a team that will try to reverse their results.
'They have a lot of top players so we cannot be confident that, just because they are not in a good moment, we are going to win the game. We must try to win the game by having a good performance.
'The advantage we will take is if we play a good game, if we are solid in defence and creative in attack. That's what the result depends on.
'It's strange for a big team (that in) the last 20 years normally play in the Champions League, but football is like that. From one game to another the results change.
'Is it a good time to play them? The time for our team depends more on our performance than what is happening with the other team.'
West Ham sit just a point off the bottom three, but Pellegrini says he is not fighting for his job
Freddie Ljungberg will be in the opposition dugout as Arsenal's search for a permanent new manager goes on.
Pellegrini admits the Swede, a former Gunners and Hammers midfielder, has a tough task on his hands.
'Of course for him it is a big challenge in a bad moment for Arsenal,' added Pellegrini.
'He is a young manager just starting his career and he will do it the best he can do it. It is not easy but he knows that club well.'
Pellegrini has problems of his own, with West Ham edging perilously close to the drop zone, but as usual he rejected any suggestions that he is battling to save his job.
'As I always say, the pressure doesn't link with the results,' he said. 'The pressure for me is in every game, to do it better, play well and win the game.
'You do not need to be in a bad position, without a win in so many games, to start to feel the pressure. Pressure is there always.'
Man Utd closer to Bruno Fernandes transfer agreement, Arsenal medical, Chelsea, Liverpool
Sunday, January 26
Manchester United and Sporting Lisbon are closing in on a transfer agreement over Bruno Fernandes
Tottenham are working around the clock on a permanent deal that would see Gareth Bale return to the club from Real Madrid before this week's transfer deadline
Arsenal are closing in on the signing of Flamengo defender Pablo Mari
Chelsea manager Frank Lampard has heaped pressure on the Blues board by stating that the club need to get their 'short-term recruitment right' between now and deadline day
Sporting expect Bruno Fernandes deal
Bruno Fernandes is expected to join Manchester United this transfer window by Sporting Lisbon themselves, according to reports. The 25-year-old has been the subject of interest from the Red Devils for most of the month and the saga is showing no sign of slowing up.
United entered talks with Sporting over a deal for Fernandes weeks ago, months after insisting the 25-year-old wasn't a player in their sights.
It looked as if they were all set to land the Portugal international – before the situation changed.
Sporting raised their asking price for Fernandes and United, despite their obvious need for midfield reinforcements, are yet to take action.
Portuguese newspaper Correio da Manha say, though, that the deal is back on.
Sporting chief Frederico Varandas is now expecting the transfer to go through and even has a specific fee in mind.
Varandas is said to believe that United will up their transfer offer for Fernandes, meaning Sporting would pocket £50million up front and a further £9m in add-ons.
As things stand they're just £5m apart on any deal but Sporting believe that, come the end of the January transfer window, the player will have departed.
Should that happen, that would make the 25-year-old one of the most-expensive players in United's history.
Transfer news LIVE: Man Utd want Bruno Fernandes (Image: GETTY)
Ole Gunnar Solskjaer stance on Man Utd sack
Manchester United manager Ole Gunnar Solskjaer doesn't think the Glazers will give him three years before winning a trophy, according to reports. The Red Devils are in FA Cup action against Tranmere today, a tournament that now seems to represent one of their best chances of winning silverware.
United boss Solskjaer has overseen a difficult campaign at Old Trafford, with the club's fall from grace showing no signs of slowing up.
The Red Devils have lost three of their last four matches across all competitions, with Wednesday's 2-0 defeat to Burnley at home a particularly low moment.
Solskjaer has pleaded for United fans to be patient, with supporters venting their frustrations at the Glazers and Ed Woodward during the loss to Sean Dyche's side.
And the Daily Mail say that, privately, he doesn't think the Glazers will give him three years without winning a trophy before sacking him.
Man Utd make improved Bruno Fernandes bid
Manchester United have upped their offer for Bruno Fernandes, according to a report in Portugal. United held face-to-face talks with Sporting Lisbon over two weeks ago in London but the clubs have not been able to agree on a fee for the midfielder.
United had their opening bid rejected by Sporting and have been working on a new agreement since.
There have been contrasting reports as to the value of that initial offer but Portuguese newspaper O Jogo claimed it was £38million (€45m) plus £12.7m (€15m) in add-ons.
Earlier in the week the publication reported that United agreed to up their lump sum to £42m (€50) after talks with Fernandes' agent Miguel Pinho.
But O Jogo now state that United have given in again and will formally table a £46m (€55m) bid with the same incentives.
The weekend is said to have been a decisive time in discussions between the two clubs with an 'important step' taken towards sealing a deal.
Transfer news LIVE: Man Utd could sack Ole Gunnar Solskjaer (Image: GETTY)
Leeds deal backed
Danny Murphy has urged Leeds to sign Sheffield United striker Billy Sharp in order to clinch promotion to the Premier League.
Leeds have relied heavily on first-choice frontman Patrick Bamford to fire them to the Championship's top-end this season and Murphy reckons Sharp would be the perfect addition.
And Murphy sent a message to Leeds chiefs on Match of the Day, saying: "It could be the difference of getting a team up from the Championship.
"He wouldn't have to move house, which is a problem for players, and he was there a couple of years ago. Go get him. Give him a call."
Transfer news LIVE: Arsenal are keen to bolster their back four (Image: GETTY)
Man Utd's Bruno Fernandes worry
Manchester United co-chairman Joel Glazer has doubts over Bruno Fernandes' asking price. The Red Devils are hoping to sign the Sporting Lisbon star before Friday's transfer deadline.
United and Sporting have been locked in talks, with negotiations stalling over the asking price for the 25-year-old attacking midfielder.
It's understood the Red Devils are not willing to pay more than £50million plus £15m in add-ons for the Portugal international.
However, Sporting want £68m for the player plus add ons, a fee United are not prepared to match.
And according to The Sun, United co-chairman Joel Glazer doesn't value Fernandes at £68m.
The American, who signs off all the club's transfers, doesn't want the Red Devils to overpay for Fernandes before Friday's transfer deadline.
Transfer news LIVE: Arsenal are keen to spend (Image: GETTY)
Man Utd make Edinson Cavani offer
Manchester United had an offer to sign Edinson Cavani from Paris Saint-German rejected by the Uruguayan striker, who would rather join Atletico Madrid, despite interest from Chelsea as well.
According to Soccer Link, however, United have made an offer to Cavani which would see him be paid £10million-a-year at Old Trafford.
They've also added a £2.5m signing bonus onto a potential deal, but Cavani isn't interested.
The report states that Cavani still wants to move to Atletico, who have an agreement in place with the striker.
Transfer news LIVE: Chelsea could sell Giroud (Image: GETTY)
PSG open Pierre-Emerick Aubameyang talks
Arsenal forward Pierre-Emerick Aubameyang has been approached by Paris Saint-German over a potential move to the Ligue 1 champions as a replacement for outgoing striker Edinson Cavani.
Under a week remains in the January transfer window, making a move to PSG unlikely, but if Cavani leaves, Aubameyang would become PSG's top target, according to FootMercato.
They are reporting that Aubameyang's camp have met with PSG to discuss a potential loan move until the end of the season, with an option to buy.
Cavani, whose contract is up in the summer is eager to leave PSG, with the likes of Chelsea, Manchester United and Atletico Madrid linked with his signature.
Transfer news LIVE: Liverpool are keen to spend (Image: GETTY)
Man Utd still want Emre Can
Manchester United are still keen on doing a deal for Juventus and German international Emre Can before the transfer window closes, Express Sport understands.
Ole Gunnar Solskjaer is looking to strengthen his midfield with Paul Pogba and Scott McTominay out injured.
United were linked with Can earlier this month but his Liverpool connections were reportedly putting the German off a move to Old Trafford.
Solskjaer has not given up on a deal for the German midfielder though.
The United boss earlier this week confirmed the club were looking to get a couple of deals over the line still.
Transfer news LIVE: Man Utd want Bruno Fernandes (Image: GETTY)
Mino Raiola on Paul Pogba leaving Man Utd
Paul Pogba's agent Mino Raiola has once again hinted his client could be on his way out of Manchester United.
"Juventus fans should dream, like those around the world, because if you don't dream you're dead," Raiola said when asked about the possibility of his client moving.
"I don't work in dreams, but I try to make the right choices at the right time with my players to advance their career.
"Now to say that Pogba leaves Manchester United to go to Juventus to Real or Barcelona is not the right time."
Transfer news LIVE: Man Utd are keen to spend (Image: GETTY)
Bruno Fernandes to Man Utd update
Manchester United and Sporting Lisbon agree on the add-ons to be included in a potential transfer for Bruno Fernandes.
Portuguese outlet Correio da Manha say the clubs cannot agree on the basic transfer fee for the attacking midfielder.
However, they both agree about the bonuses. With Sporting demanding £8.4m (€10m) and United willing to pay up.
United are hoping to land Fernandes before the transfer window shuts on Friday night.
Transfer news LIVE: Jose Mourinho is keen to spend (Image: GETTY)
Gareth Bale to Tottenham EXCLUSIVE
Tottenham are working around the clock on a permanent deal that would see Gareth Bale return to the club from Real Madrid before this week's transfer deadline.
Spurs boss Jose Mourinho is keen to sign at least three players before the transfer window closes with Benfica's Gedson Fernandes the only new arrival so far this month.
But a deal for the Welsh superstar, 30, will be challenging to complete with his £650,000 a week contract which runs until June 2022 one of the biggest obstacles.
A loan deal for Bale who Real have been trying to offload for the last 12 months has been ruled out, but the two clubs are discussing a permanent switch.
Transfer news LIVE: Arsenal are closing in on the signing of Flamengo defender Pablo Mari (Image: GETTY)
Pablo Mari to Arsenal close
Arsenal are closing in on the signing of Flamengo defender Pablo Mari.
The 25-year-old has arrived at Heathrow Airport ahead of completing a move to the Emirates this month.
Reports emerged late on Friday that Mari had agreed a switch to Arsenal from Brazilian side Flamengo. And now the centre-back has landed in London ahead of his medical, which is set to take place this weekend.
Mari arrived at Heathrow with Arsenal technical director Edu, who flew with him from Rio de Janeiro.
When asked if he was excited to be joining Arsenal, Mari said: "Yeah of course".
Transfer news LIVE: Tottenham are working around the clock on a permanent deal for Gareth Bale (Image: GETTY)
Frank Lampard demands Chelsea signings
Chelsea manager Frank Lampard has heaped pressure on the Blues board by stating that the club need to get their 'short-term recruitment right' between now and deadline day.
He said: "There is no movement to speak of now. We got a punishment in the summer and it is meant to hurt you. We lost one of the biggest players in our history in Eden Hazard.
"That is the situation. My job is to work every day on the training ground to make the players better. We lost ground last summer and we need to make moves now to take us forward.
"The money of it is not my job but I have to be honest and truthful. Short term recruitment is something we have to get right."
James Maddison to Liverpool or Man City?
Leicester playmaker James Maddison should ignore a move to Manchester United in the summer and instead hold it out for a side more stylistically suited to his way of playing, such as Liverpool or Manchester City, ESPN pundit Steve Nicol claims.
"Under normal circumstances this would be kind of a no brainer, somebody like him, playing at a provincial side shall we call them in Leicester City," Nicol told ESPN FC while discussing the chances of Maddison going to Old Trafford.
"The big guns of Manchester United come calling for you and it's only a matter of, can the two clubs sort it out financially? That's what used to happen.
"The bottom line is, is it going to benefit this guy going to United right now? I don't think it would. I think it would help him to keep playing in the way he has at Leicester.
"The way Leicester play suits his game and in fact the way they play is a lot closer to what the likes of City and Liverpool do, than what the likes of United do.
"I'd suggest if I'm him, I hang around and wait. Wait for a Liverpool or a Manchester City.
"Because right now, going to Man United, I think is pulling people under. I think for his game, it's not going to help him going to Man United.
"If Paul Pogba can go to Man United and his game suffers, with the experience he has, why wouldn't it happen to James Maddison?"
[Image] No Lacazette or Ozil: How Arsenal should line-up vs Bournemouth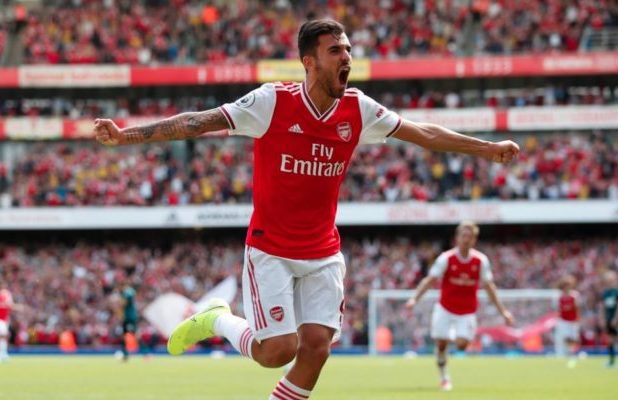 Arsenal take on Bournemouth at the Vitality Stadium in the FA Cup on Monday evening. Here is the line-up I'd like Mikel Arteta to select…
Holding to start
Rob Holding has been eased back into action slowly since returning from his knee injury but this is a great opportunity for him to get some much-needed minutes under his belt. He was superb before his injury and we could certainly do with Holding getting back to that sort of form soon.
David Luiz is suspended but Sokratis is available again after recovering from illness so I'd start Holding alongside the Greek international and consign Shkodran Mustafi to the bench where he belongs.
Hector Bellerin made an impressive comeback against Chelsea but I would give Ainsley Maitland-Niles a run out tomorrow. Sead Kolasinac and Kieran Tierney remain on the sidelines so teenage winger Bukayo Saka will once again deputise at left-back.
Ceballos given chance
There are widespread rumours circulating that Dani Ceballos is pushing to leave the club this month after struggling for game-time recently. He's only just returned from a lengthy injury so I'm not sure what his issue really is but I'd be gutted to see him leave. Ceballos showed what he's capable of against Burnley and we need him to produce that kind of performance on a regular basis.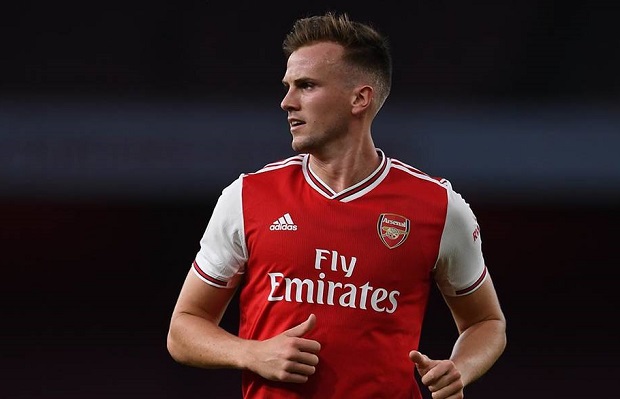 I think this is a good chance to give Ceballos a start and play him in his best position in a midfield three. Hopefully he can rediscover some form and boost his confidence which may persuade him to see out the remainder of his loan.
Arsenal have very little left to play for in the league as the top four is realistically gone so we need to take the FA Cup seriously. However, we also need to give fringe players some game-time so it's a balancing act for Arteta to deal with.
I hope we keep Lucas Torreira in the side as this will be a tricky away game at Bournemouth and we need his presence in front of the defence. Matteo Guendouzi's form has dropped dramatically recently so I'd stick with Granit Xhaka tomorrow.
Martinelli starts
Pierre-Emerick Aubameyang will serve the final game of his three-match ban so Gabriel Martinelli should get another start and hopefully he can continue his excellent form following his superb goal against Chelsea last week.
Reiss Nelson is out for a few weeks with a hamstring injury so Nicolas Pepe will continue on the right-wing and we really need a performance from him tomorrow as his form has been so inconsistent.
Mesut Ozil can get a rest with Ceballos starting while I'd also give Eddie Nketiah a start. Arsenal have decided he's not leaving on loan so he needs minutes and this is a good opportunity for him to show what he can do.
Alexandre Lacazette has been struggling for goals and maybe he could do with a breather, so I'd stick him on the bench tomorrow night.
Here is how I hope Arsenal line-up:
Mikel Arteta downplays emergence of Gabriel Martinelli with Arsenal boss keen not to burden teenager
'For him there is still a long way': Mikel Arteta downplays emergence of Gabriel Martinelli… with Arsenal manager keen not to burden teenager with added pressure
Gabriel Martinelli scored his 10th goal of the season against Chelsea on Tuesday
Martinelli has stepped up to the plate in Pierre-Emerick Aubameyang's absence
But Arsenal manager Mikel Arteta insists the 18-year-old still has a long way to go
Mikel Arteta is eager for Arsenal attacker Gabriel Martinelli to continue developing in the same way and warned not to burden the teenager with unnecessary pressure.
The 18-year-old scored in the 2-2 draw at Chelsea on Tuesday, racing clear from inside his own half before showing great composure to find the net.
It was Martinelli's 10th goal of the campaign and made him the first teenager to reach double figures in a season for Arsenal since Nicolas Anelka.
Gabriel Martinelli is in red-hot form after scoring from inside his own half against Chelsea
Mikel Arteta has been impressed with Martinelli but says there is still a long way to go for him
GABRIEL MARTINELLI IN 2019-20
Appearances: 21
Goals: 10
Assists: 3
Yellow cards: 2
Statistics according to Transfermarkt
After signing from Ituano in the summer, there was little expectation on the forward, but he has emerged as a real plus point and recently filled the void of the suspended Pierre-Emerick Aubameyang by netting in the Gunners last two matches.
'I would like to talk about potential, more than what it is at the moment because for him there is still a long way,' Arteta said.
'The stature of this club, to give him the key to do that straight away is not fair on him. We have to bring him down.
'I want him to train with his head down every day hard and slowly he will start to earn the praise if he does what he needs to do every day, but it is not about one or two days.'
Head coach Arteta admitted he was surprised by how prepared Martinelli was to compete in the first-team when he first took over last month.
The Spaniard had been told plenty of positive traits about his fighting spirit and quality in front of goal, which quickly were rubber-stamped and the teen is expected to start again in the FA Cup at Bournemouth on Monday.
The Arsenal manager talks to the 18-year-old in training this week at London Colney
Arteta added: 'I heard a lot of things about Gabi before I joined and the moment I saw (him) in training, it was confirmed the things I was told before.
'I think the way he competes and how brave he is in every decision on that pitch is very unusual for an 18-year-old.
'He competed against one of the best defenders in the league, in (Cesar) Azpilicueta, and he got at him every time he had a chance. His fighting spirit is incredible and then he is a threat for goal every time.'
Asked if Martinelli's form was so good it would make recalling Aubameyang difficult, the 37-year-old disagreed, but he did admit the young striker currently deserves to remain in the team due to his recent performances.
What Arteta is worried by, however, is supporters and others at the club expecting the Brazil Under-23 international to consistently deliver displays like he did against Chelsea.
Martinelli impressed in the 2-2 draw at Chelsea in midweek, scoring Arsenal's first goal
'That is the risk and not just him, but all of us and me included and the club and the people around him,' Arsenal's head coach insisted.
'We have to support him and protect him. We cannot just give him the license to think he can do that every single day and he needs to do that and put himself under that pressure when he can maybe get blocked a little bit.
'It is completely the opposite. He needs to play with that freedom where he has the license to do what he wants to do on the pitch, but with the pressure really that it doesn't always have to be him to do it.'