[Player Ratings] Arsenal 0-0 Sporting: Guendouzi composed, Ramsey disappoints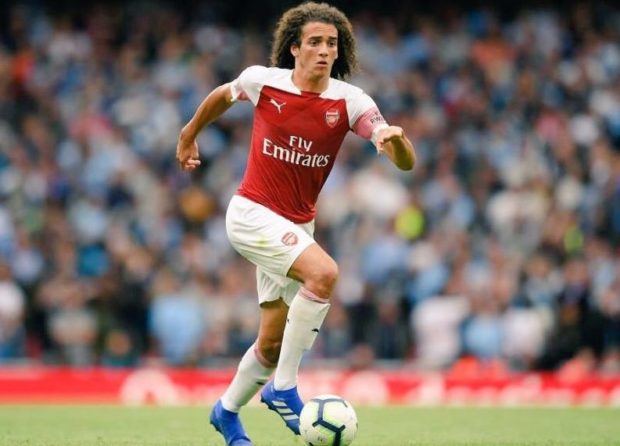 Arsenal qualified for the knockout stages of the Europa League after drawing 0-0 with Sporting Lisbon at the Emirates on Thursday night.
We weren't at our best at all and struggled to find our fluency but in fairness the game was overshadowed by a serious ankle injury to Danny Welbeck midway through the first half.
Here are my ratings:
Cech  6/10 | Had very little to do. Barely touched the ball all night.
Jenkinson  6/10 | A steady performance from the out-of-favour full-back. Not easy to play at left-back but did OK – apart from a wild attempted volley from 25 yards!
Sokratis  7/10 | Given very little trouble by the Sporting attack but did make a couple of decent blocks. Good to see him back as we've missed him in recent weeks.
Holding  7/10 | Another solid performance from the improving Holding. Didn't put a foot wrong.
Lichtsteiner  6.5/10 | Put a couple of decent crosses in but sadly limped off with a hamstring injury.
Guendouzi  7.5/10 | Dictated the tempo of the game with some neat passing and was our most industrious player. Booked for a cynical foul on Nani after he failed to kick the ball out for the injured Lichtsteiner.
Ramsey  5/10 | Failed to take his chance. Looked off the pace and struggled to influence the game. Overplayed at times too.
Smith Rowe  6/10 | Not as involved as we've seen in previous outings. Was given some rough treatment by the visitors but he'll learn from it.
Mkhitaryan  5/10 | Missed a decent chance late on to get on the score-sheet. He's struggling for form and it showed tonight.
Iwobi  6/10 | A few flashes of his quality but nothing really came off for him.
Welbeck  N/A | Stretchered off with a serious ankle injury in the first half. Looks like a season ending injury. Absolutely heartbreaking for Danny.
Subs:
Aubameyang  6/10 | Missed a couple of half chances but was starved of service and kept under a tight leash by the well organised Sporting defence. Was clean through late on before being chopped down by Mathieu – who was sent off.
Kolasinac  5/10 | Added some balance down the left side after replacing Jenks.
Maitland-Niles  N/A |
Premier League top scorers: Vardy extends lead over Abraham, Rashford, Aubameyang
1. Jamie Vardy: 16 goals
2. Tammy Abraham: 11 goals
3. Pierre-Emerick Aubameyang: 10 goals
4. Marcus Rashford: 10 goals
5. Sergio Aguero: 9 goals
6. Sadio Mane: 9 goals
7. Harry Kane: 9 goals
8. Danny Ings: 9 goals
9. Raheem Sterling: 8 goals
10. Teemu Pukki: 8 goals
'It's strange for a big team': Pellegrini taking Arsenal lightly as Gunners look to turn form around
'It's strange for a big team': West Ham boss Manuel Pellegrini expects to face Arsenal side hungry to win as Freddie Ljungberg aims to end winless streak
West Ham will host Arsenal on Monday night in a Premier League clash
Arsenal are on a miserable run, having gone nine games without a win
West Ham's form is no better, with Pellegrini's job at risk in East London
The former Man City boss called Arsenal's situation 'strange for a big team'
West Ham boss Manuel Pellegrini will not be taking Arsenal lightly despite their woeful form.
The Gunners head to east London on Monday night on the back of a nine-match winless streak, their worst run in 42 years.
Arsenal would appear to be there for the taking as the Hammers go in search of only their second win in 10 in the league.
Manuel Pellegrini is expecting a tough challenge against Arsenal despite their 'strange' form
Freddie Ljungberg is yet to win as boss in two games since taking over from Unai Emery
The Irons fell to another loss to Wolves in midweek, as they continue to struggle for form
But Pellegrini is anticipating a backlash and warned: 'I expect to see a team that will try to reverse their results.
'They have a lot of top players so we cannot be confident that, just because they are not in a good moment, we are going to win the game. We must try to win the game by having a good performance.
'The advantage we will take is if we play a good game, if we are solid in defence and creative in attack. That's what the result depends on.
'It's strange for a big team (that in) the last 20 years normally play in the Champions League, but football is like that. From one game to another the results change.
'Is it a good time to play them? The time for our team depends more on our performance than what is happening with the other team.'
West Ham sit just a point off the bottom three, but Pellegrini says he is not fighting for his job
Freddie Ljungberg will be in the opposition dugout as Arsenal's search for a permanent new manager goes on.
Pellegrini admits the Swede, a former Gunners and Hammers midfielder, has a tough task on his hands.
'Of course for him it is a big challenge in a bad moment for Arsenal,' added Pellegrini.
'He is a young manager just starting his career and he will do it the best he can do it. It is not easy but he knows that club well.'
Pellegrini has problems of his own, with West Ham edging perilously close to the drop zone, but as usual he rejected any suggestions that he is battling to save his job.
'As I always say, the pressure doesn't link with the results,' he said. 'The pressure for me is in every game, to do it better, play well and win the game.
'You do not need to be in a bad position, without a win in so many games, to start to feel the pressure. Pressure is there always.'
Arsenal stance on Massimiliano Allegri could change due to former Juventus boss' comments
Arsenal may no longer consider Massimiliano Allegri to be their next manager because the former Juventus boss is not keen on returning to work before the summer. According to Goal, Allegri is high on the Gunners' shortlist but his insistence of extending his sabbatical may not work for the north Londoners.
The Italian was interviewed for the job in 2018 before Unai Emery's appointment and remains interested in the position.
But the successful manager has taken some time off ever since leaving Juve last summer and is very happy with the way things are.
When asked when he will come back to action, Allegri said: "In June. I don't know if you can call it a sabbatical or not.
"Giovanni [Branchini] and I immediately came to that decision.
"As soon as the relationship with Juventus came to an end, the decision was to take a year out.
"I had 18 years as a player and I've been in coaching for 16. I stopped this year after 34.
"I'm happy. I have a chance to reflect, go and talk to people, do things in my private life that I'm passionate about, like going to the theatre, some art exhibitions, reading books."
JUST IN: Arsenal next manager candidates face three interviews as details of complex process emerge