The Aubameyang secret that is not such a secret
<!–
(adsbygoogle = window.adsbygoogle || []).push();
–>
You have to hand it to the English tabloids, they literally have no shame and will put out stories that either contradicts themselves or are simply outright lies.
Each morning I go through Arsenal related headlines, it is my job after all and sometimes I come across the most outrageous headlines or articles that simply have to be called out.
This headline from the Daily Express and the accompanying article fit the bill of utter ridiculousness.
Arsenal star Pierre-Emerick Aubameyang holding secret talks about Real Madrid transfer
WOW, where to start?
<!–
(adsbygoogle = window.adsbygoogle || []).push();
–>
First, how the hell is it secret if it is being splashed across their website?
Second, these so-called secret talks are not actually with Real Madrid, they are supposedly with his teammates Dani Ceballos and Mesut Ozil, yup, Mesut Ozil.
It seems that by asking Ceballos and Ozil what it is like at Real Madrid is enough for the Daily Express to proclaim that Aubameyang is holding secret talks.
They cite some obscure Spanish publication for these revelations, I mean, this is as clickbait as you can get.
How any of them know what or who he is talking to is beyond me but even if Ceballos or Ozil are running off to the media and saying Aubameyang asked me what life is like at Real Madrid how the hell does that justify such a headline or article, there is literally nothing of any substance to back up either.
The headline is misleading in the extreme, the article is woeful and the really sad thing about this is that some Arsenal fans will fall for this rubbish.
Do not fall for this made-up rubbish and remember the name Jack Otway, he is the so-called journalist that wrote this garbage because by remembering his name you will know anything he writes in future is almost certainly fake and can be disregarded.
<!–
(adsbygoogle = window.adsbygoogle || []).push();
–>
[Image] No Lacazette or Ozil – How Arsenal should line-up vs Everton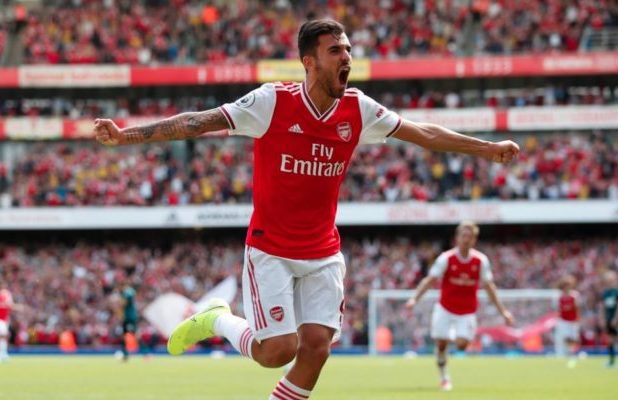 Arsenal take on Everton at the Emirates on Sunday afternoon. Here's the line-up I'd like Mikel Arteta to select…
We've kept three consecutive clean sheets so we shouldn't tinker too much with the back four. David Luiz has been very good recently and fair play to Shkodran Mustafi too as he's put-in some solid performances.
I'm a big Rob Holding fan and would like to see him playing more but right now it's hard to argue that Luiz and Mustafi shouldn't start, especially as Sokratis picked up a knee injury on Thursday and is a major doubt for the Everton game while Pablo Mari is lacking match fitness.
Bukayo Saka continues to be a revelation at left-back after grabbing another assist in the Europa League so he deserves to keep his place while Hector Bellerin should return at right-back after being rested in midweek.
Torreira returns
Lucas Torreira missed Arsenal's win over Olympiacos due to illness but he's expected to be back in contention to face Everton and I think he should come straight back in to partner Granit Xhaka.
Matteo Guendouzi didn't really grasp his opportunity after being recalled against Olympiacos following his bust-up with Arteta so the Frenchman should drop to the bench.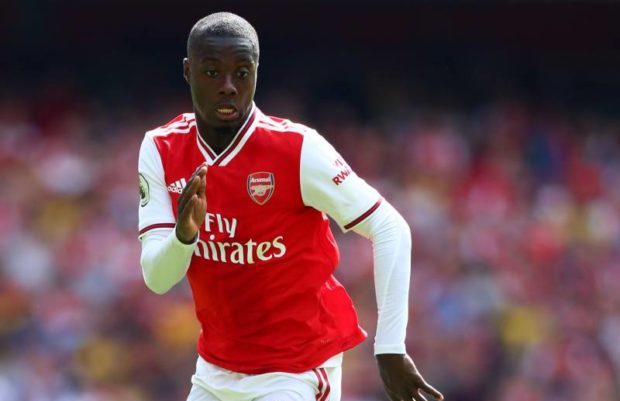 Mesut Ozil missed the trip to Greece to be with his wife for the birth of their baby and it's unknown whether he'll be available on Sunday. With the inevitable sleepless night's that come with newborns, Ozil probably won't be in any state to start! Therefore, I'd go with Dani Ceballos in the advanced midfield position as Joe Willock was disappointing against Olympiacos.
Lacazette out
Alexandre Lacazette grabbed the all-important away goal in Athens but I still don't think we can justify playing Pierre-Emerick Aubameyang out wide any longer. He's our best goalscorer so let's start him through the middle.
That would allow Gabriel Martinelli to play from the left wing where he's been far more productive as I think he's struggled on the right in recent matches.
In addition, Martinelli switching flanks will pave the way for Nicolas Pepe to be recalled and I actually think Martinelli/Auba/Pepe is our best and most balanced front three right now.
Arsenal will have the likes of Reiss Nelson and Eddie Nketiah on the bench along with Lacazette if needed.
Here is how I hope Arsenal line-up:
Premier League fixtures: Man Utd, Liverpool, Arsenal and Chelsea find out April TV changes
Sky Sports have announced their latest batch of Premier League fixtures to be broadcast in April. The key match of next month is undoubtedly the clash between defending title holders Manchester City and champions-elect Liverpool.
City will welcome Jurgen Klopp's side to the Etihad Stadium on April 5, with their match kicking off at 4:30pm.
The game is a pivotal one for the Reds – who top the league by 22 points – as it could see them crowned champions of England for the first time in 30 years.
The second north London of the season will also be broadcast by Sky on April 26, with Arsenal travelling to the Tottenham Hotspur Stadium on April 26.
The full list of fixtures to be broadcast by Sky in April can be seen below.
Fri April 10: Newcastle vs West Ham (8pm)
Sat April 11: Tottenham vs Everton (5.30pm)*
Sun April 12: Chelsea vs Watford (2pm)*
Sun April 12: Liverpool vs Aston Villa (4.30pm)*
Mon April 13: Wolves vs Arsenal (8pm)
Sat April 18: Crystal Palace vs Chelsea (12.30pm)*
Sat April 18: Arsenal vs Leicester (5.30pm)*
Sun April 19: Sheff Utd vs Wolves (2pm)*
Sun April 19: Aston Villa vs Man Utd (4.30pm)*
Mon April 20: Brighton vs Liverpool (8pm)*
Sat April 25: Brighton vs Man City (5.30pm)*
Sun April 26: Sheff Utd vs Chelsea (2pm)*
Sun April 26: Tottenham vs Arsenal (4.30pm)*
Mon April 27: Aston Villa vs Crystal Palace (8pm)
*subject to progression in the Champions League
Man City vs Liverpool moved as Sky and BT reveal April's TV fixtures
Liverpool's Premier League title showdown with Manchester City among games moved in April as Sky and BT reveal latest TV picks while first north London derby at Tottenham's new stadium is also switched
The Premier League has confirmed which games in April will be shown on TV
Manchester City will host Liverpool on April 5 as the Reds look to secure the title
The Premier League has confirmed the games to be shown on live TV in April, with Manchester City hosting Liverpool at 4:30pm on Sunday April 5 on Sky Sports.
Towards the end of the month, the north London derby will be shown at 4:30 on Sky Sports on April 26, as Tottenham host Arsenal.
Sheffield United vs Wolves will also be shown on Sky Sports on the afternoon of April 19 as the two teams try and chase down a European spot for next season.
More to follow
Liverpool versus Manchester City is one of the games to be moved for live TV in April 2020