Video: Frank Lampard jogs 9km from training to the hotel


Chelsea boss Frank Lampard has been giving his players an indication of what he expects in terms of fitness levels this season by jogging back from…
Click the headline to read the full story.
[Ratings] Chelsea 2-2 Arsenal: Martinelli stars but Mustafi woeful yet again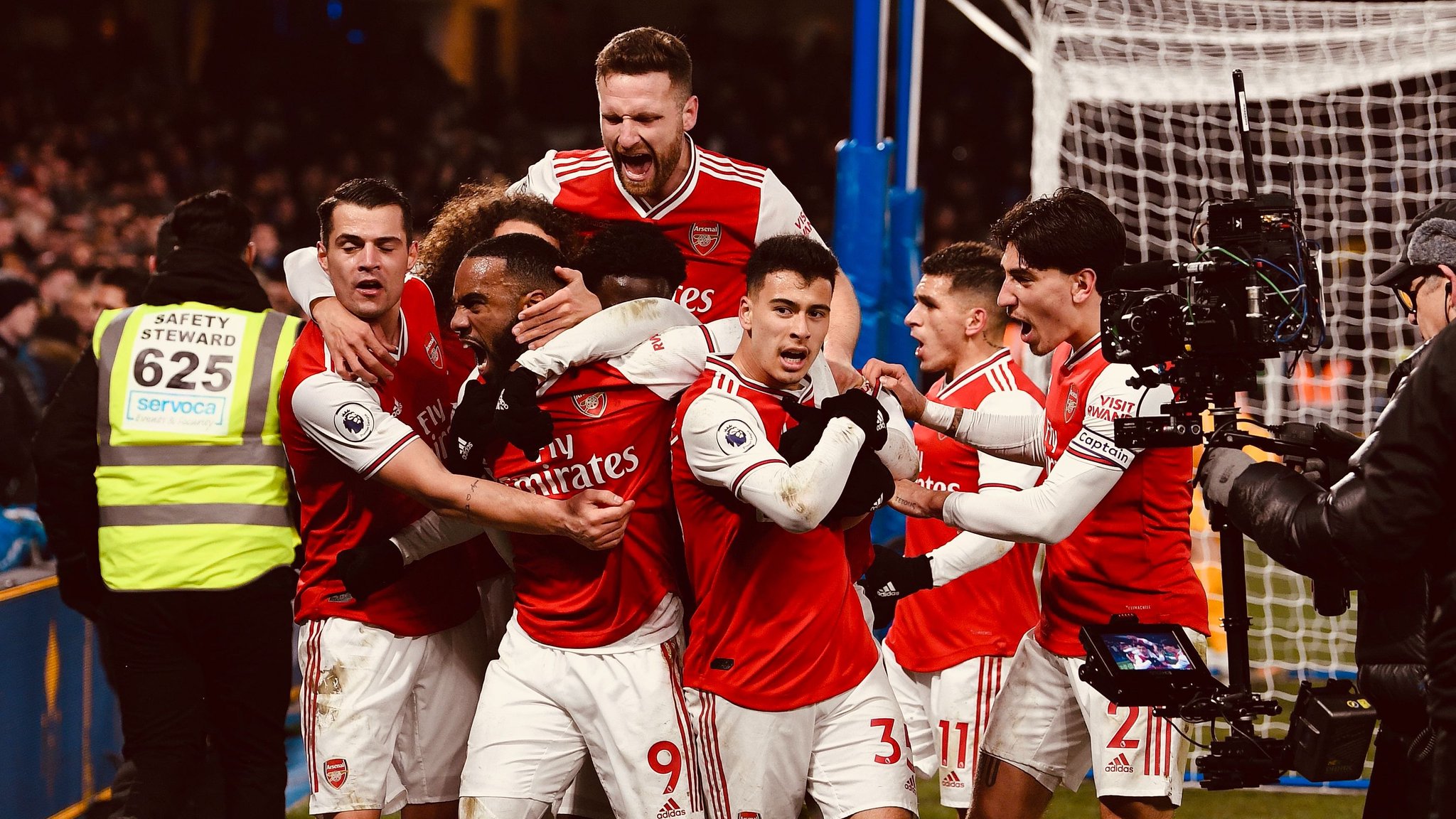 Arsenal battled with 10-men for much of the game to come from behind twice and salvage a 2-2 draw with Chelsea at Stamford Bridge on Tuesday night.
It was a poor start by Arsenal and yet another individual error cost us. Shkodran Mustafi's under-hit back-pass let in Tammy Abraham and David Luiz was gave away a penalty after bringing down the Chelsea striker. The penalty was the right call. The resulting red card certainly wasn't as the double-jeopardy rule change in the summer meant Luiz should only have been shown a yellow as he tried to play the ball. But once again, the incompetent officials let us down. Jorginho converted the spot kick. 1-0 Chelsea and Arsenal [wrongly] down to 10-men in the 26th minute.
However, we battled well despite our man disadvantage and Gabriel Martinelli scored a stunning equaliser midway through the second half as he ran the length of the pitch before firing past Kepa for 1-1 following a break from a corner. N'Golo Kante's slip helped him out but it was still a superb goal.
Chelsea then restored their lead in the 84th minute when Cesar Azpilicueta poked home following a corner but Arsenal refused to give up and Hector Bellerin curled home a wonderful equaliser from the edge of the box with his left foot to make it 2-2 in the 87th minute.
Neither side could find a last gasp winner so the points were shared at Stamford Bridge in a hugely entertaining game.
Here are my ratings:
Leno  7/10 | Made a number of solid saves to keep us in the game and played a key role in helping us get a point.
Bellerin  7.5/10 | What a return to the team! Looked a little rusty early on but grew into the game and fired home a superb equaliser late on. Great to have him back.
Mustafi  4/10 | Yet another catastrophic error from Mustafi. His under-hit backpass let Abraham in and led to Luiz giving away a penalty and being sent off. The frustrating thing about Mustafi is he actually plays reasonably well for 90% of games but ALWAYS has a stupid mistake in him that costs us. He also fell asleep for the second Chelsea goal. Needs to leave asap.
Luiz  4/10 | Reckless decision to dive in on Abraham. Should have gone to block the shot, not tackle the player. However, based on the double-jeopardy rule change, Luiz should only have been given a yellow as he was clearly attempting to win the ball. Another basic error gone against Arsenal by the VAR.
Saka  6.5/10 | Another solid display at left-back from the youngster. Dealt well with a tricky Hudson-Odoi but his crossing was very poor.
Xhaka  7/10 | Fair play, dropped back to centre-back when Luiz was sent off and did a great job. A warrior all game – although he did play Azpilicueta onside for the second goal.
Torreira  7/10 | Rolled up his sleeves and worked his socks off to get something from the game. Protected the back four and threw himself into every tackle. Cramped up at the end which shows how much he put in.
Pepe  6/10 | Arsenal needed more from him on the counter-attack but Pepe just didn't deliver. A few flashes weren't enough and should have gone at Emerson all game after the Chelsea man received an early booking.
Ozil  5/10 | Ozil really isn't the player you want in your team when you're down to 10-men in the first half. Had very little influence on the game and was eventually subbed.
Martinelli  8/10 | What a star! Showed superb confidence and composure to run the length of the pitch before cooly slotting past Kepa for 1-1. Never stops working and tracking back either. A special talent and we're lucky to have him.
Lacazette  5/10 | Goal drought continues and Laca seems miles off the pace right now. His confidence is low, touch is poor and he seems heavy legged. However, he did work hard, dropping deep to offer another body when Chelsea attacked. Desperately needs a goal.
Subs:
Guendouzi  5/10 | Ran around a lot but didn't always look like he had any purpose to his play.
Holding  6/10 | On for the last 10 minutes but should have started ahead of Mustafi.
Watch the goals and highlights here:
Martin Keown demands one new Arsenal signing after Shkodran Mustafi Chelsea shocker
"David Luiz here panics, he's not great there either, but I sympathise there with David Luiz, he's been put in trouble by Mustafi and honestly he's an accident waiting to happen.
"He listens far too much to the criticism that is around him.
"When you play at a high level and you talk about a game, people want to criticise you, even us.
"I think that's definitely a red, you can't argue with that.
Lampard is vindicated in his decision to dispense of David Luiz after the Arsenal man is SENT OFF
Frank Lampard vindicated in his decision to dispense of David Luiz… after the Arsenal centre-back was SENT OFF after 26 minutes in a nightmare return to former club
The day before David Luiz's Stamford Bridge return, Frank Lampard was discussing the idea of bringing in some experience to help his youthful side.
'It is something I'm not absolutely looking away from,' he said when asked about January target Edinson Cavani. 'Sometimes the young players need a little bit of help.'
What he then saw unfold right in front of him in 26 minutes from Luiz, though, only vindicated his decision to dispense of one of the seasoned campaigners he did have to call on when he was appointed last summer.
David Luiz clumsily fouls Tammy Abraham in the box, conceding a penalty in the first-half
Referee Stuart Atwell gives Luiz his marching orders for preventing a near-certain goal
The warm welcome from Lampard and captain Cesar Azpilicueta in the matchday programme handed out at Stamford Bridge was as good as the night got for the Brazilian.
The 32 year-old's name was booed along with his every touch by the fired-up home fans, angered by his defection across London.
An early foul was symptomatic of his uneasy start as was the part he played in some unnecessary overplaying at the back from Arsenal that earned him a ticking off from manager Mikel Arteta.
Worse was to come in the 26th minute when Tammy Abraham rounded Bernd Leno and Luiz, trying to make up for an error from his partner in calamities Shkodran Mustafi, dragged him down to earn a red card.
Luiz waited in vain for a reprieve but it was not forthcoming. Off he went. In truth, referee Stuart Attwell did Luiz a favour by putting him out of his misery.
The Arsenal centre back waited on the pitch for a VAR reprieve but it was not forthcoming
The mocking from Chelsea fans continued after Jorginho converted the penalty – 'David Luiz, he's one of our own' they belted out, sarcastically and gleefully.
As nightmare returns to a former club go, you will struggle to see one as bad as this.
As Luiz trudged off, accepting hard luck handshakes from fellow Brazilian Willian and his teammates on his way to the tunnel, there was not a flicker from Lampard, who remained stood in his technical area and appeared to not acknowledge Luiz as he walked past.
They were once teammates but, as his manager, Lampard had to break the bad news to him last summer.
The former Chelsea player trudges off the Stamford Bridge pitch after his dismissal
Luiz walks past former manager, and team-mate, Frank Lampard on his way down the tunnel
Lampard wanted to go a different way, with younger players. Luiz did not hang about to try and fight for his place and pushed through a move to Arsenal.
In truth there was not too much resistance from Chelsea amid concerns from some that Luiz might not be the sort of character to keep around in the background if he is not playing.
On Tuesday, he was and it was not his character in question, more his quality, leaving Lampard with no regrets.